Time to be taking some chips off the table?
By Christine Hughes, Chief Investment Strategist, OtterWood Capital:
This is bear market 2.5 of my career. The half-bear is for the quick one in 1998 during the Asian crisis. It wasn't the end of the US business cycle but if the Fed hadn't dropped rates in a hurry back then, it would have been.
Today, we're still in a "bounce" within an ongoing bear market, and as one market pundit put it, "It's the bounce that never ends."
In reality though, bounces can have some serious staying power and produce excitable rallies that convince most the worst is over when it's just about to get worse.
Below you can see the first big bear I lived through as a money manager – the tech crash of 2000-2002. Smallest bounce was 8%, biggest was 21%: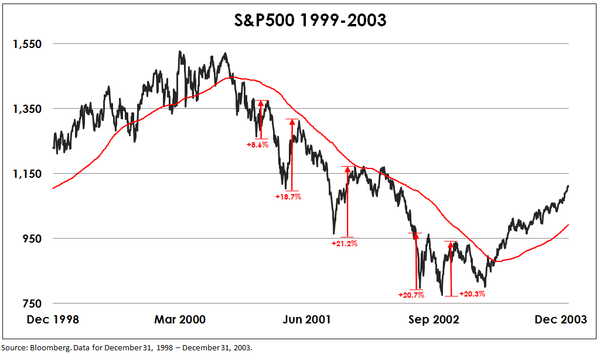 The S&P500 is up 9.3% from the February 11th lows and is now as overbought as last October when the market topped. The chart below shows how the internals of the market are now stretched, the percentage of stocks within the S&P 500 that are above their 50 day moving average is as high as last October.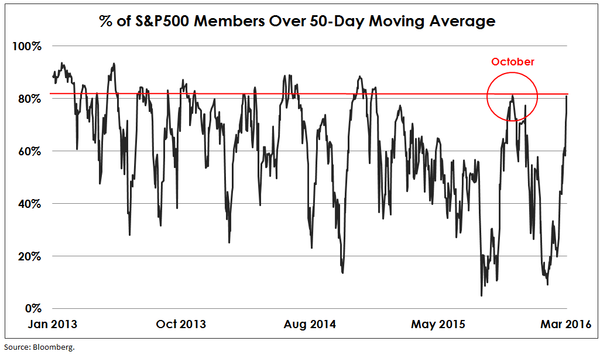 I don't think this bounce is going to be a +21%'er, although I think we'll see those during this bear market. The big bounces come after the markets see very washed-out action which we have yet to see on the S&P500. The current rally is reaching overbought conditions (as noted above), and it's possible that overbought conditions could get more extreme.
However, this is the time you want to be taking some chips off the table. Credit has barely budged and overall yields have hardly risen throughout the entire bounce – not what happens when we're off and running for real.
North American oil production is finally coming down, which is good for energy prices and likely sends energy shares higher short-term. However, I also believe that sector is only experiencing a bounce. Please read our blog post for our thoughts on energy here.
Could natural gas soon be free? This falls into the "can't make this stuff up" category. The WSJ is out with an article about how natural gas storage facilities are almost full, and enough wells are ready to come back online as soon as prices stabilize. That leaves natural-gas prices with nowhere to go but down and, in some areas, way down—perhaps near zero if producers get desperate….
Gold had a pretty good week and broke out to new highs as German 2yr yields hit all-time low negative yields. The lower rates sink into negative territory in Europe and Japan, the more attractive gold looks as a currency. It now costs more money to store cash at a bank in Germany for two years than it costs to store physical gold. BlackRock announced that "Issuance of gold trust shares 'IAU' was suspended due to demand for gold." It means they can't get their hands on the physical fast enough. Wow.
The next couple weeks are big for macro news as the European Central Bank, Bank of Japan, Federal Reserve, and Bank of Canada all hold their meetings. Expectations for further easing from the ECB and the Bank of Japan are very high, and we'll find out if they are going to disappoint markets again or beat expectations for further easing. The ECB has promised to cut rates further into negative territory, and we'll see how that goes over if they indeed follow through. Markets will likely stay buoyant until these meetings.
My issue with further easing measures is that it works to weaken the Euro and the Yen which effectively makes the US dollar go higher. A strong US dollar is how we got into this market stress in the first place. Next week should have some fireworks. I still remain cautious. By Christine Hughes, OtterWood Capital
Enjoy reading WOLF STREET and want to support it? You can donate. I appreciate it immensely. Click on the beer and iced-tea mug to find out how:

Would you like to be notified via email when WOLF STREET publishes a new article? Sign up here.