Hope came unglued all over again.
In January, orders by trucking companies for Class 8 trucks – the big rigs that haul freight on North American highways – plunged 48% from a year ago, to 18,062 units.
The fiasco started in earnest in September. Since then, orders have become "unusually volatile," as FTR, a transportation analysis and forecast provider, put it in its report. "Unusually volatile" means they are heading south in an unruly manner.
In 2014, orders for Class 8 trucks had reached 376,000 for the year. US truck makers were ecstatic. They cranked up production and hired people. Trucking companies were on cloud nine. Capacity was tight, rates soared. There was talk of driver shortages.
But in 2015, particularly in the last few months of the year, reality was sinking in: oversupply of trucks, weak demand from shippers, and therefore declining spot rates. In response, trucking companies slashed their orders for new equipment. For the year 2015, orders for Class 8 trucks plunged 24.5% to 284,000. "And now," the report said, "2016 is starting off even weaker."
The last few months have been crazy. In October, according to FTR, orders for Class 8 trucks plunged 45% year-over-year to 25,000, or a "still impressive" 324,000 orders for the last 12 months.
In November, orders plunged 59% year-over-year to just 16,475, the worst November since 2009. This was "a major disappointment," FTR explained euphemistically, with "all of the OEMs, except one," experiencing "unusually low orders for the month." This brought orders for the past 12 months down to 300,000 units. The report at the time, with a hue of desperation:
The November orders are very concerning. People were optimistic when orders held up well during the summer. Now we get into the peak order season and have the lowest orders of the year. The weak orders are the reason for the recent OEM announcements regarding production cutbacks and layoffs.

Truck inventories are high and retail sales have stalled. The industry would appear to have enough new trucks for now. The manufacturing sector has sputtered and freight growth has slowed. Orders should stabilize soon, but backlogs will be shrinking, necessitating larger production cuts than were previously expected."
In December, orders plunged 36% year-over-year to 27,800 units, though it was a big jump from November and was "considerably" above the beaten-down expectations. It dragged orders for the 12 months down 24.5% to 284,000 units.




It seemed the desperation bleeding through in November had ceded to hope. The report at the time: "The December orders show there is still solid demand for Class 8 trucks in 2016. This is much welcomed news after the very concerning November total."
Then came January, and hope came unglued all over again. The 18,062 orders pushed the 12-month total down to a miserable 217,000 units.
These are huge declines in orders for truck and component makers. But trucking companies have no choice. They're struggling with a tough situation: rampant overcapacity in the face of weak demand.
Transportation data provider DAT tracks national spot market demand for trucks and available capacity via its load-to-truck ratio, which it calls "a sensitive real-time indicator" of the balance between the two. The ratio shows where rates might be headed.
In January, the load-to-truck ratio for van-type trailers fell to 1.9, down 32% from January 2015, down a dizzying 57% from January 2014, and down 21% from January 2013.
The whole equation unraveled in May last year when the 2015 ratio (red line), which had been solidly below 2014 levels (blue line) all year, suddenly dropped even below 2013 levels (green line). January 2016 is the circled dot at the bottom left: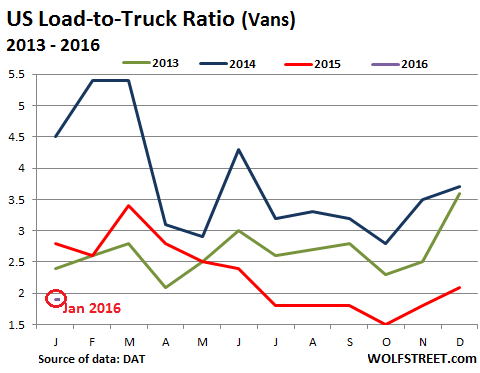 These are the load-to-truck ratios for vans. Similar scenarios, only worse, are transpiring with flatbed demand and refrigerated van (reefer) demand. DAT's flatbed load-to-truck ratio was 8.6 in January, down 32% from January 2015 and down 50% from January 2014. The reefer load-to-truck ratio, at 4.5, was down 51% from January 2015 and a stunning 68% from January 2014!
This is the effect of rampant overcapacity in face of weak demand. And trucking companies are reacting by slashing their orders of new equipment and trimming their fleets. The Wall Street Journal:
On Tuesday, USA Truck Inc., a truckload carrier based in Van Buren, Ark., said it operated nearly 400 fewer trucks in the fourth quarter compared with the previous year. Knight Transportation Inc. said last week it would stop expanding its fleet, and Swift Transportation Co., the largest truckload carrier, said in October it wouldn't add to the number of vehicles it operates.
With new business drying up, truck and engine makers and their suppliers have already announced big production cuts and layoffs late last year and in January. Earlier this month, it was Daimler Trucks that announced that it would lay off over 900 people at its Freightliner plant in North Carolina and cut production at its Cleveland Truck Manufacturing plant by a third.
This is how the transportation recession at a time of oversupply ricochets through the broader economy.
And some shrapnel hit the restaurant industry, which caught all kinds of heat from other directions. Because plunges like this only occur when something big is going on. Read…  Restaurant Industry Suddenly Tanks, Worst Plunge since the Beginning of the Financial Crisis




Enjoy reading WOLF STREET and want to support it? You can donate. I appreciate it immensely. Click on the beer and iced-tea mug to find out how:

Would you like to be notified via email when WOLF STREET publishes a new article? Sign up here.