Nasty secondary effects of corporate cost-cutting.
By now, 40% of the companies in the S&P 500 index have reported earnings for the fourth quarter, including eight of the top 10 by weight. The S&P 500 companies, accounting for about 80% of market capitalization, are a good sample for what's going on in corporate America. And what is going on is the first revenue and earnings recession since 2008/2009.
Revenues on a blended basis – actual revenues for companies that have already reported, and estimated revenues for companies that haven't yet reported – fell 3.5% in Q4 from a year ago, according to FactSet. Revenue declines are stretching across four quarters in a row, a feat that has been accomplished for the last time during the depth of the Financial Crisis: Q4 2008 through Q3 2009.
Four of the ten sectors are in the red. The Energy and Materials sectors got hit the hardest. But Industrials got roughed up too. And even Information Technology, the supposedly blooming sector in the US, had significant revenue declines, including shining stars Microsoft and IBM, whose revenues dropped 10.1% and 8.5% respectively: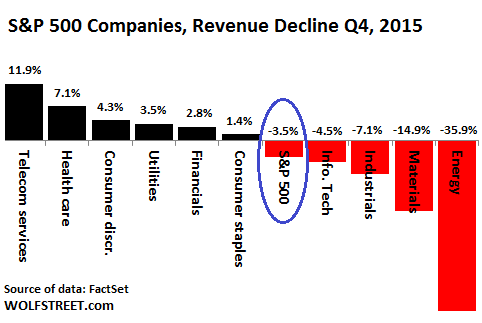 And the mystery boom in the Telecom sector? FactSet sheds some light on it:
At the company level, AT&T is the largest contributor to revenue growth for the sector. The company reported actual sales of $42.1 billion for Q4 2015 (which reflects the combination of AT&T and DIRECTV), compared to year-ago sales (which reflects standalone AT&T) of $34.4 billion. If AT&T is excluded, the blended growth rate for the sector would fall to 3.1%.
A little M&A goes a long way.




The Health Care sector always grows. Runaway health-care expenses that consumers and companies have been complaining about for decades are revenues to the industry. It eats up over 17% of GDP. Much of it shows up in "consumer spending." Given the powerful lobbying by the industry and the absurd dollars involved, no one is going to do anything about the industry's monopolistic or oligopolistic structures. But the growth of this industry bleeds companies in other sectors and wrings consumers dry.
If the Energy sector were excluded from the revenue picture, the blended revenue growth rate for the S&P 500 would rise to a measly 0.9% from -3.5%. If the huge Health Care sector were excluded, revenues would plunge more deeply into the red.
Earnings per share look even worse. And this despite the all-out efforts to financially engineer the results into better shape via share buybacks, which reduce the number of outstanding shares and thus increase the earnings per share. On a blended basis, according to FactSet, earnings per share in Q4 fell 5.8%.
A month ago, Wall Street soothsayers had still estimated that earnings per share would fall "only" 5.0%. But as reality trickled in, they lowered their estimates. If the remaining earnings season pans out similarly, EPS will have declined three quarters in a row for the first time since Q1 2009 through Q3 2009.
Earnings fell in six of the ten sectors: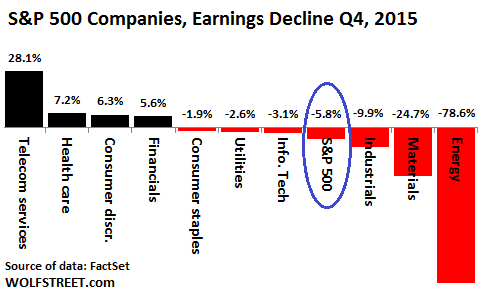 If the Energy sector were excluded, earnings per share would have edged up a measly 0.5%. If the Health Care sector were excluded, earnings would have plunged into perdition. Funny things happen when you remove some inconvenient elements from the calculus.
For calendar year 2015, S&P 500 revenues fell 3.4%, the first annual decline since 2009: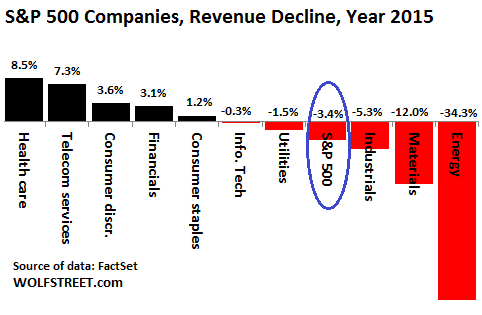 And earnings in calendar year 2015, if Q4 works out the way it currently looks, fell by 0.8%, the first annual decline since 2009: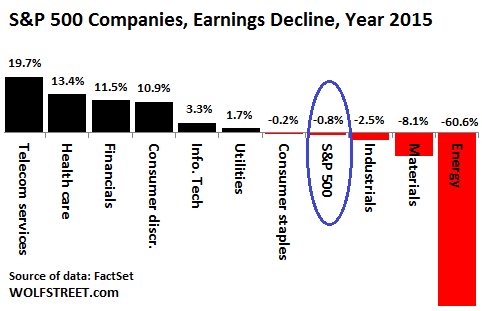 So how are earnings going to look in 2016?
Wall Street soothsayers are convinced: a heck of a lot better. Back on December 31, they still figured revenues would grow 4.3% in CY 2016. By Friday, they'd chopped their estimates to a growth of 2.7%, as they're adjusting to a somber reality heading their way. And they pegged earnings growth at 5.0%, down from 7.6% on December 31.
And how are earnings going to look in 2017?
Hurrah, double-digit earnings growth is back! Double-digit earnings growth in the distant future is the rule. It serves the exclusive purpose of justifying high-flying stock prices in the presence. According to our soothsayers, earnings per share in 2017 are going to soar 13.2% on a 6.1% revenue increase.
But reality is now. And now revenues and earnings are declining. The only way to keep earnings from falling off the cliff in this environment is for companies to dive head-first into cost cutting. Many have already started that process. Their announcements, including layoffs, are hitting the headlines on a daily basis.
Corporate cost-cutting creates a secondary effect. By slashing costs and capital expenditures, companies are slashing the revenues of their suppliers and incomes of current or laid-off employees. These suppliers in turn start slashing their costs. And people who'd just been laid off as part of the cost-cutting strategies are going to watch more carefully what they spend, which dings consumer spending. And it's via these cost-cutting measures ricocheting through corporate America that earnings and revenue recessions end up filtering unpleasantly into the overall economy.
While companies are cutting back, they're still blowing borrowed money on financial engineering projects. The result is a toxic cocktail. Read…  Already Lousy Corporate Investment Comes Totally Unglued




Enjoy reading WOLF STREET and want to support it? You can donate. I appreciate it immensely. Click on the beer and iced-tea mug to find out how:

Would you like to be notified via email when WOLF STREET publishes a new article? Sign up here.