The only exceptions were in the early 1950s
Painful – that's how you can describe the slew of recent US economic data. And today's data dump was even worse.
On a regional level, there was the Empire State Manufacturing Survey. The Current Activity Index plunged to the lowest level since March 2009. The last time it had squeaked into positive territory was in July 2015. The Expectations Index plummeted by an unprecedented 29 points, also to the worst level since March 2009.
Thank God it's only regional. But wait…. California's Inland Empire Purchasing Managers Index, which tracks manufacturing in the Inland Empire, started losing its grip in August and in December plunged to the lowest level since the dark days of February 2009.
The report pointed to the link between the index and the overall economy in the region: Historically, when the PMI drops below a certain level, as it did in December, and stays there for three months, it coincides with a recession in the region's overall economy ["The Sky is Falling" on California Manufacturing, Worst since February 2009, Might Kick Regional Economy into Recession].
Then retail sales for December dropped. Turns out, holiday sales brought no respite to the beleaguered brick-and-mortar retailers [read…  Wal-Mart Rubs Salt on Deepening Retail Wounds].
And the final shoe to drop today, in a gratuitous sort of way, was the Federal Reserve's index for industrial production. It fell 0.4% in December, after having already fallen 0.9% in November and 0.2% in September, while August had been flat. Year-over-year, December was down 1.8%.
A year-over-year drop of this magnitude (-1% or more) has been linked to a recession every time it occurred over the past six decades. You have to dig into the early 1950s before you find the last two occurrences where this kind of drop in industrial production was not associated with a recession.
I circled those two exceptions in this chart by the Economics and Strategy team at NBF. I also circled December's drop. The recessions are the gray columns. This is starting to look ugly: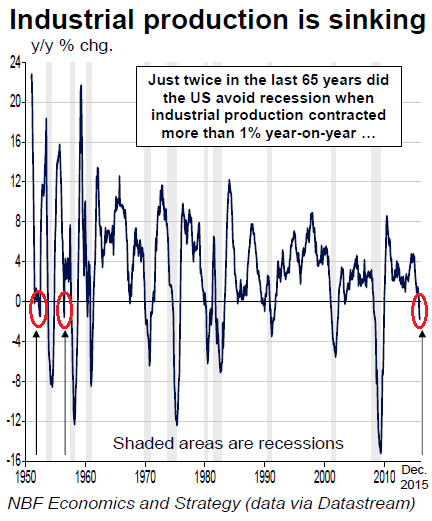 Worse: contagion is spreading from beaten-down oil & gas and metals & mining to consumer goods, where production dropped 0.8% for the month, the fourth month in a row of declines, though they still eked out a gain of 0.3% year-over-year. And it's hitting production of Business Equipment, down 0.8% year-over-year.




Some sectors are still strong: the sub-index for Construction output was up 1.6% year-over-year, given the apartment building boom in major cities; and the stalwart of growth in America, defense and space equipment, rose 0.6%.
But the utilities index fell 2.0% for the month and 6.9% for the year. This drop "contributed substantially to declines in the indexes for consumer goods, business supplies, and materials," the Federal Reserve pointed out. So that explains part of the problem in consumer goods. But output of consumer durables fell 0.3% and output of "consumer non-energy nondurables" also fell 0.3%. It finally all circles back to the consumer.
Everyone was quick to blame the weather, which this time had been too warm rather than too cold. When it gets warm in the winter, utilities produce less. We get that. But production of consumer durables and consumer non-energy nondurables?
Weakening exports also get blamed. Exports excluding petroleum products are falling off the chart. This is a problem of weak global demand combined with the swooning currencies of some trade partners.
Yet it is still possible that the US economy won't skid into a recession. The service sector – which is about five times as big as oil & gas, other mining, and manufacturing combined – is still growing. It includes healthcare, which is booming.
Auto sales (and auto manufacturing) have been setting records. Housing hasn't visibly rolled over yet. While job-cut announcements are now disconcertingly gracing our headlines on a daily basis, weekly unemployment claims have only been edging up recently from very low levels. We expect them to jump when things get dicey. But they haven't jumped yet.
That said, numerous jobs that were cut in the oil & gas sector and elsewhere were contractor jobs. Other contractors had their hours reduced. And those folks won't show up in the weekly unemployment claims because they don't qualify for unemployment compensation.
One thing we know: If ugly data like this keeps piling up over the next few months, or if auto sales, services, or housing take a hit, something big is going to give. Then there's the growing possibility of a financial crisis or a debt crisis in the Emerging Markets, which would rattle our nerves even more. And the current "market turbulence," as the global swoon in stocks is called, might just be the market's reflection of those possibilities.
Consumers are curtailing their purchases and shifting to online stores. So, brick-and-mortar retailers are being taken out the back and shot. Read… Wal-Mart Rubs Salt on Deepening Retail Wounds




Enjoy reading WOLF STREET and want to support it? You can donate. I appreciate it immensely. Click on the beer and iced-tea mug to find out how:

Would you like to be notified via email when WOLF STREET publishes a new article? Sign up here.