This data "will be met with dismay by the hedge fund industry."
"Alternative Investments" were the Holy Grail. They promised big returns that would be independent from the gyrations of the stock and bond markets. Hedge Funds and Private Equity firms marketed them to wealthy individuals and institutional investors, such as pension funds.
"Feel the power of Alternative Investments – B.A.M." That's how Credit Suisse advertised it on its website back in October 2013. It was so irresistible that I took a screenshot of the ad, to be used at an opportune moment, and now is that moment: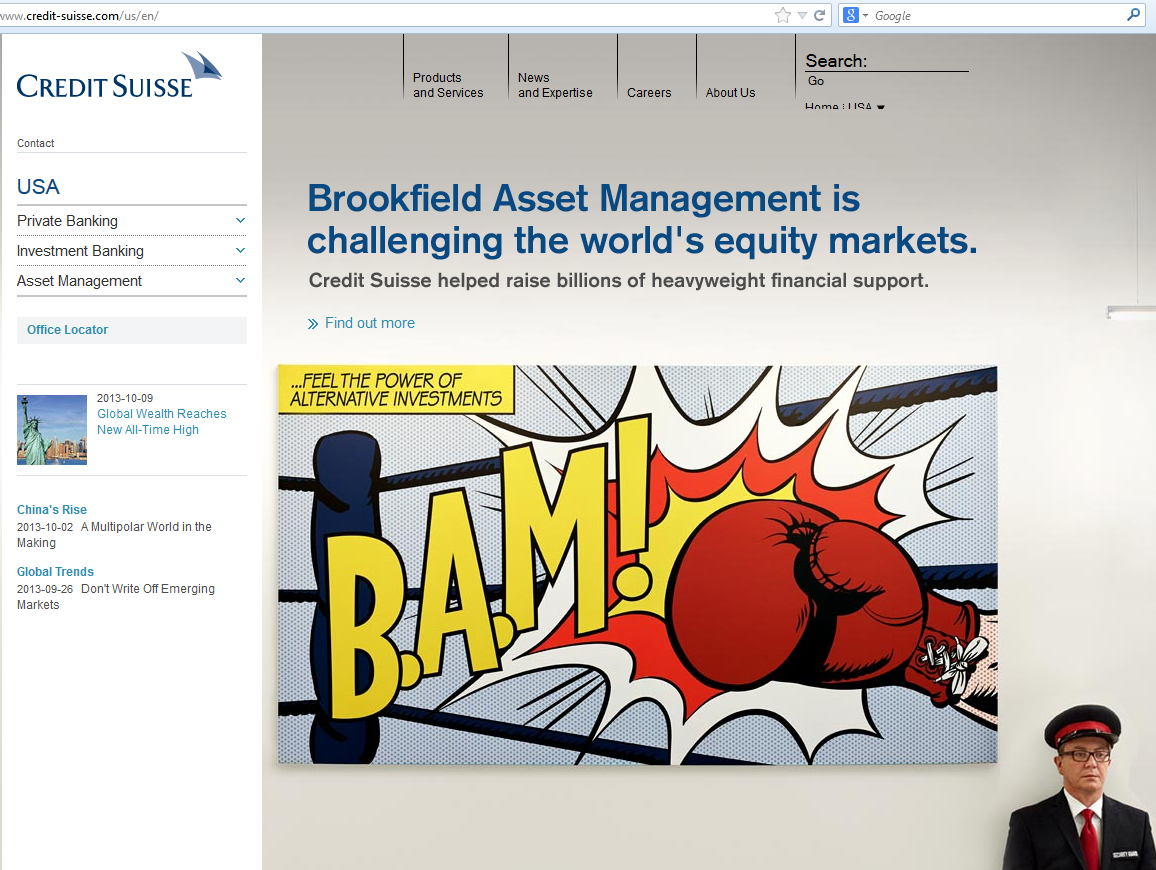 This was the heyday of Alternative Investments. QE Infinity was making everything possible. Yields on bonds had plunged to near nothing. Prices of most assets were soaring. Risks no longer existed and hence weren't priced into anything. And anyone could make big returns. But that's like so 2013….
"Low interest rates, steep commodity losses, and intense equity market volatility contributed to a challenging environment in 2015, resulting in a wide dispersion between the best and worst performing funds," explained Kenneth Heinz, president of Hedge Fund Research (HFR) in its report about the hedge fund debacle that 2015 had become.
So hedge funds across the $2.9 trillion industry were in the red for December and ended the year 2015 down 0.85%, according to HFR's fund-weighted composite index. It was only the fourth year since 1990 that the index ended up in the hole.
They got hammered by hedge-fund favorites: the entire energy sector, distressed debt when it became the "opportunity of a lifetime" in late 2014 and early 2015, junk bonds of all stripes, Apple, which is down 28% from its high in 2014, and a slew of other companies….
And they charged a lot in fees for the privilege, as high as 2% of assets under management, plus a 20% slice of investment profits.




Who has figured out already that this equations isn't working all that well? The California Public Employees' Retirement System. CalPERS, the largest public pension fund in the US, decided a while ago to eliminate its hedge fund program, as part of its efforts "to look for ways to reduce risk, complexity, and costs," as it said in its just released report on the fiscal year ended June 30, 2015.
It practically bragged about it. That hedge-fund elimination process, along with "the diligent work to negotiate more favorable terms for CalPERS with our external managers," cut its costs for the year by $217 million.
And it did better than the hedge fund industry: it earned a measly 2.4% on its assets. The report blamed "the impact of tepid global economic growth and increased short-term market volatility," along with the strong dollar that had eaten into international investments.
Other institutional investors are eyeing a similar hedge-fund demolition program in their portfolios. A survey by research group Preqin, to be published in its annual report on the hedge fund industry later this month (and reported on Sunday by the Financial Times) found that only 25% of institutional investors are planning to increase their hedge fund exposure, while 32% are planning to slash it.
In the survey a year ago, 26% of institutional investors were planning to increase their hedge fund exposure, with only 16% planning to cut it. But in the middle of 2015, Preqin's interim poll first indicated that more investors were planning to cut their hedge-fund holdings than were planning to increase them. And now the trends has strengthened.
This data, as the Financial Times put it, "will be met with dismay by the hedge fund industry, which had hoped volatile stock markets would encourage investors to seek alternative sources of return. It is also likely to add extra pressure on hedge fund fees."
To add insult to injury:
The downbeat figures … also show that one in three investors were disappointed by returns from their hedge fund portfolio in 2015 and have less confidence in future returns than they had a year ago.
That momentum of disappointment and hedge-fund elimination is picking up steam. The promise of "alt investments" has run aground on high fees and in some cases spectacular losses. After a phenomenal boom, there are nearly 15,000 hedge funds. But according to Don Steinbrugge, managing partner at hedge-fund market and consulting firm Agecroft Partners, many of them will hit rough waters in 2016, and closures "should also be at an all-time high." The era of hedge-fund glory and "alt investment" dazzle has peaked.
At least, they didn't blame China. Read… This is What Happens after PE Firms Get Through with a Retailer




Enjoy reading WOLF STREET and want to support it? You can donate. I appreciate it immensely. Click on the beer and iced-tea mug to find out how:

Would you like to be notified via email when WOLF STREET publishes a new article? Sign up here.