"A drawdown much like the one we saw in 2009 and 2010."
Transportation is a gauge into how well the real economy is doing. And it just keeps getting worse.
In October, the number of freight shipments in North America fell from September, in line with the patterns of the past few years, but it fell more sharply than before. And year-over-year, shipments dropped 5.3% to hit the worst level for October since 2011, according to the Cass Freight Index, after having already plunged in the prior month to the worst level for a September since 2010.
Cass put it this way:
This month's decline was much sharper than in recent years and can be directly correlated to falling imports and exports as well as decreased domestic manufacturing levels. Burdened by bloated inventories, and under the shadow of a possible interest rate increase by the Federal Reserve, businesses cut back on new orders placed in the last three or four months. This is resulting in lower import volumes, less freight to move, and faltering industrial production. With the dollar still strengthening, export growth decelerated in the third quarter.
With the exception of January and February, the index has been lower year-over-year every month, which makes for a very crummy year: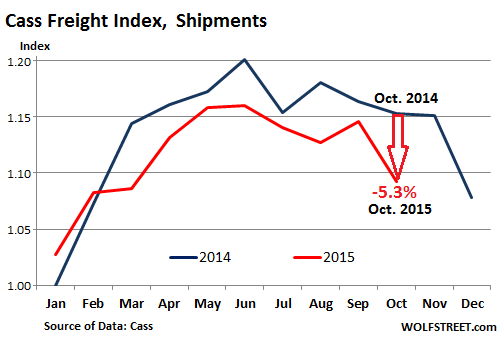 The index is broad. It tracks shipment data from all kinds of companies, no matter what mode of shipping they choose, including truck and rail. But it does not cover bulk commodities, such as oil, wheat, coal, etc. It's based on "$26 billion in freight transactions processed by Cass annually on behalf of its client base of hundreds of large shippers," as Cass explains. These shippers form a "broad sample" in all kinds of sectors, including consumer packaged goods, food, automotive, chemical, OEM, heavy equipment, and retail.
Ah, retail…. Retailers are already blaming the debacle on the weather.
Macy's was the latest retailer to confirm why transportation is having a hard time: revenues dropped 5% as earnings plunged 46% in the quarter ended October 31. While at it, it lowered guidance for the year, with sales at stores open at least one year declining 1.8% to 2.2%.
"Spending by domestic customers remained tepid, especially in key apparel and accessory categories," said CEO Terry Lundgren. He also blamed tourists that weren't digging deeply enough into their pockets. Its shares plunged 14% on Wednesday and are down 44.6% from their high in July. Party over.
Companies across the US have been dogged by these sorts of unpleasant revenue declines. And where revenues are from selling merchandise, rather than services, the story involves transportation.
Commenting on my article a month ago about the freight debacle in September, "Harvie" supplied some boots-on-the-ground color:
I own a fleet of 15 trucks that go on the road delivering all kinds of freight, and I can tell you it's extremely slow. This should be our busiest season for the 4th quarter but it feels like it's January. With the price of diesel being low and low amounts of freight moving, the rates for all truck loads have dropped significantly. Meanwhile our insurance payments increase every year.

I've spoken to numerous freight brokers also, and they say the same.
This comes at the totally wrong time. Trucking had been booming in 2014. Capacity was squeezed. Rates were rising. Trucking companies went on a buying binge. Then came 2015, and now trucking is suddenly slowing down.
But it's not just in trucking. This is what Cass said about rail shipments – note the plunge in intermodal (containers):
The Association of American Railroads reports that October traffic was down 4.3% from 2014 levels. More importantly, though, is that carloads dropped 20.7% and intermodal fell 20.3% from the previous month.

Rail has been hit particularly hard by the rapid drop in industrial commodities caused by the steady decline in industrial production. Coal, petroleum, and ores were down, while grain was up. The reductions in energy production are being felt throughout the freight community as shipments of not only petroleum, but also pipe, water, sand, and other drilling materials have dropped off significantly.
Some commenters on my mid-October article added some granular details: "Also noticing CSX freight cars sitting idle again like was happening in 2009." And "Tuba" observed: "I take an annual train trip to Reno, NV. One of the stops is Grand Junction Colorado. Normally this is a mostly abandoned very large train yard. This year I was surprised to see hundreds of idled Union Pacific locomotives as far as the eye could see."
Declining shipments and "abundant capacity in the trucking sector" are pressuring spot rates all around, and so freight payments by shippers "plummeted," as Cass said, 8.7% year-over-year and hit the lowest level for an October since 2011: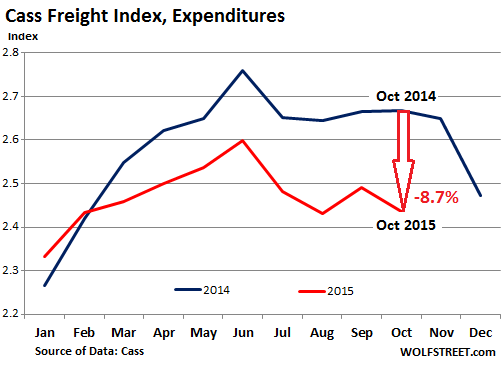 Cass finds that the lousy Q3 GDP growth "was indicative of the economic headwinds facing the economy." Among them, the strong dollar, "the weakening world economy," and this:
Inventory levels remain a looming problem as the Federal Reserve has been actively hinting that an interest rate hike is very possible in December. The combination of record inventory levels and an interest rate increase will cause a significant hike in inventory carrying costs. This will most likely drive a drawdown much like the one we saw in 2009 and 2010.
It's unnerving how these references to the Great Recession keep cropping up at every twist and turn these days.
So who is going to pull the global economy out of its funk? No one knows. But it's not going to be China. That's what China's trade fiasco is saying. Read… China Trade Swoons, Collapse of Containerized Freight Index Hits Worst Level Ever, Global Slowdown Worse than Forecast
Enjoy reading WOLF STREET and want to support it? You can donate. I appreciate it immensely. Click on the beer and iced-tea mug to find out how:

Would you like to be notified via email when WOLF STREET publishes a new article? Sign up here.