When Statistics Canada released its July retail sales report today, it dished out a few unwelcome surprises – and a bombshell.
Among the surprises, based on what economists – though perhaps not average Canadians – had expected: Growth in retail sales was a measly 0.5% in July; and growth in June was revised lower to 0.4%, from the originally reported 0.6%. Year-over-year, retail sales rose just 1.8% adjusted for inflation.
The saving grace, sales of auto and parts dealers rose 2% month over month. Without them, retail sales were flat – also worse than economists had expected.
And by province, there were some ugly differences: on a year-over-year basis, not adjusted for inflation – more on that in a moment – nominal retails sales jumped 5.7% in British Columbia and 4.6% in Ontario. But at the other extreme, nominal retails sales edged down 0.7% in Newfoundland & Labrador, and slumped 3.6% in Saskatchewan and 3.7% in Alberta.
These two provinces are the epicenter of the Canadian oil bust, where a deep recession has set in. Home sales are plunging. Layoffs are cascading through the local economies. Uncertainly reigns. And consumers are reacting the best they can.
And here's the bombshell: over the last six months, retail prices have jumped at the fastest rate in over a decade.
Inflation has obviously been too low in Canada, the US, Europe, Japan, etc. Heaven and earth must be moved by central banks to raise inflation. The Damocles sword of deflation – when money gains in value rather than loses in value – is hanging over our entire civilization.
But OK, when you go shopping, this sort of scenario isn't quite that visible. What you see are price increases, and some of them are very painful.
Last week, Statistics Canada released the Consumer Price Index for August. It rose 0.3%, after having risen 0.3% in July. It was up 1.3% from a year earlier – too low as usual. It was held down by energy prices, which had plunged.
But the report also found that compared to a year ago, prices of food purchased in stores jumped 4% and of meat 6.3%. In restaurants, prices rose 2.8%. Prices of household furnishings and equipment rose 2.5%….
So today's retail sales report captures price changes of retail items but not healthcare, rent, and other items that are included in the CPI. Krishen Rangasamy, a senior economist at Economics and Strategy, National Bank Financial, did the math and put it in a chart: retail prices had soared at an annualized rate of 6% over the past six months, the sharpest increase in over a decade. I added the red oval to his chart: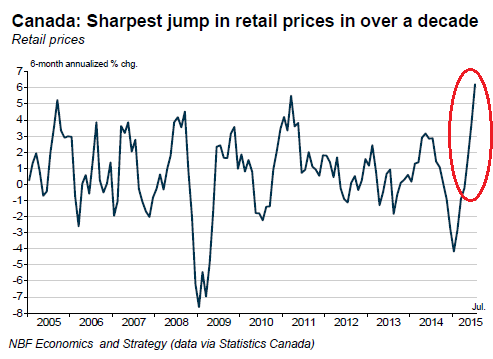 The sharp devaluation of the Canadian dollar, so eagerly pursued by the Bank of Canada, makes imports of all kinds more expensive. This ripples through the economy to eventually hit consumers as inflation. And there are other reasons that would heat up inflation at the retail level. So for many Canadians, inflation is very real. It eats into their pocket books at a painful rate. And that's not going to help consumer spending.
It comes at the worst possible time: the economy shrank over the first two quarters and was thus in a "technical recession." Now everyone is relying on consumers to pull the economy out of its mire. Perhaps they can if they borrow even more and spend money they don't have, but these price increases are making that job much tougher.
The Bank of Canada was fretting about the ballooning debt of Canadian households all last year and called it a risk to "financial stability," perhaps in preparation for raising its benchmark interest rate. Then Canada's economy tanked. So now, more household debt is supposed to bail it out. Read… The Time Bomb under Canada's Economy: Soaring Household Debt, and Suddenly Delinquencies!
Enjoy reading WOLF STREET and want to support it? You can donate. I appreciate it immensely. Click on the beer and iced-tea mug to find out how:

Would you like to be notified via email when WOLF STREET publishes a new article? Sign up here.