"The thing is, everyone can't be a contrarian at the same time."
Like many investors, I have contrarian tendencies that come deep from my gut as well as from observation and analysis, though I like to keep those tendencies in check; in a market dominated by momentum, contrarians get run over time after time. After a while it gets old – and very costly – being a contrarian in a momentum market.
But momentum likes to lead investors over the cliff. And that can be even more painful.
So I see the ongoing hype about buying Greek stocks. They've been beaten to smithereens. They should be a great deal. And maybe they are. Opportunities emerge in big crises, of the type that Greece is going through. Investors are fleeing. Liquidity has evaporated. Fortunes can be made.
But the question for contrarians is when to jump in. Are investors really fleeing? Or is this just another trap? So here are some thoughts on this topic concerning Greece. Turns out, foreign investors aren't fleeing at all.
By Dr. Steve Sjuggerud, Daily Wealth:
Greek stocks are down 60% since their peak last summer. It's hard to find investments that are down that far in price. U.S. stocks are up hundreds of percent since bottoming in 2009. U.S. real estate is coming back strong. And the U.S. dollar has soared. So is it time to speculate in Greek stocks?
In short, the answer is NO, it's not time to buy – yet.
Today, I'll tell you why I'm not buying right now. I'll also tell you what will finally cause me to buy, possibly early in 2016.
Six months ago, I told you NOT to buy Greek stocks. Greek stocks had lost nearly 50% of their value in less than a year, and investors were getting excited… The main Greek stock fund – the Global X FTSE Greece 20 Fund (GREK) – had fallen from around $25 per share to around $14 per share, and investors started buying it up like crazy.
The blue line below shows the dramatic increase in buyers in GREK. The blue line is the shares outstanding. This was a sign that buying Greece was WAY TOO POPULAR. Take a look: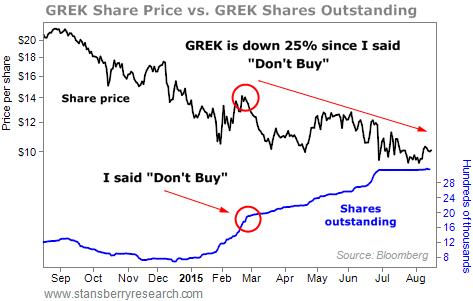 Everyone was buying Greece back then. The thing is, everyone can't be a contrarian at the same time – then you're not a contrarian!
As you can see, Greek stocks have continued their slide over the past six months. GREK is down from around $14 per share to around $10 per share. The crazy part is, investors continue to pile in. The shares outstanding of GREK are up dramatically since I wrote that essay.
Another way of looking at how popular Greek stocks are is to check out the Google Trends search results on "Greek stocks" through the end of July (the last complete month of results). As you can see below, Greek stocks are more popular than ever!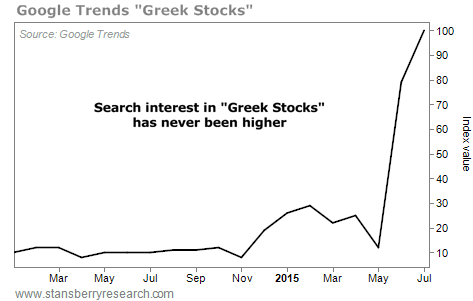 In short, Greek stocks have fallen a lot. The main Greek fund is down from a high of around $25 per share last year to around $10 per share today.
Greek stocks may be a great buy someday soon, but today is not that day! The trade is still way too popular. The big money is made when you buy something that is completely out of favor, once it starts to show signs of an uptrend. Greece doesn't tick either of those boxes today. So don't buy Greece yet. By Dr. Steve Sjuggerud, Daily Wealth
Traders are uniformly betting against it, a great contrarian sign. But wait… World's Most Hated Major Currency Hits 11-Year Low
Enjoy reading WOLF STREET and want to support it? You can donate. I appreciate it immensely. Click on the beer and iced-tea mug to find out how:

Would you like to be notified via email when WOLF STREET publishes a new article? Sign up here.