"It's an election about who will protect our economy in a period of ongoing global instability," Stephen Harper, Prime Minister of Canada, announced on Sunday as he officially kicked off the campaign for the federal elections on October 19. He'd just asked Governor General David Johnston to dissolve Parliament.
"Now is not the time for the kind of risky economic schemes that are doing so much damage elsewhere in the world," he said. "It is time to stay the course and stick to our plan."
Stay what course, exactly? Because Canada is likely in the middle of at least a "technical recession."
At first, there was hope that only the oil patch would be headed that way. Now the oil patch is already there. In the city of Calgary, Alberta, the epicenter of the oil bust, home sales plunged 14% in July year-over-year, according to the Calgary Real Estate Board (CREB). Year-to-date, homes sales are down 25%.
Despite months of assurances that the oil bust and the broader commodities rout won't spread into the rest of the Canadian economy, they're now beautifully spreading into it.
The Business Barometer Index of small business confidence dropped in July to 58.2, the worst level since mid-2009, a level that corresponds with a shrinking economy. "One normally sees an index level of between 65 and 70 when the economy is growing at its potential," the report said.
That's what Statistics Canada has been confirming for months: on Friday, it reported that GDP in May fell for a 5th month in a row.
"Much worse than the flat print expected by consensus," is how Matthieu Arseneau, a Senior Ecoomist at National Bank Financial explained the phenomenon:
Goods producing industries saw a 0.6% drop in output, as declines for mining and oil & gas (-0.7%), manufacturing (-1.7%) and utilities (-1.4%) dwarfed increases for construction (+1.0%) and agriculture (+0.2%). Industrial production fell 1.2% as a result. The services sector's output also fell 0.1 % as declines in wholesaling (-1.0%), health (-0.4%), transportation & warehousing (-0.3%), finance/insurance (-0.3%) and information/culture (-0.3%) more than offset gains in retailing (+0.5%), accommodation/food services (+0.9%) and real estate (+0.4%).

The Canadian economy contracted roughly 1.8% annualized over the March-May period.
This chart by National Bank Financial shows the increasingly ugly economic scenario. Note how the economy shrank in six of the last seven months:
The report goes on:
While there were the expected declines from manufacturing, energy, and wholesale, the weakness of other sectors came a bit as a surprise. It will now take more than 1% growth in June to prevent Q2 GDP from printing negative. So, odds are that Canada's economy contracted for the second straight quarter in Q2 (i.e. technical recession).
The goods producing industries took the biggest hit. Output in May fell 0.6%, down for the fifth month in a row. But the service sector, the beacon of hope in the Canadian economy, has now stalled too – it actually fell 0.1% in May: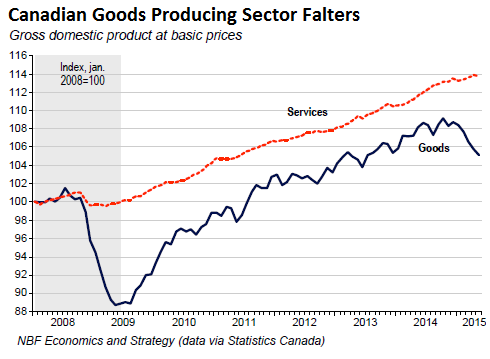 But the all-important output of real estate agents and brokers rose 2.1%, up for a fourth month in a row. And construction grew 1.0%, "as engineering and repair construction as well as residential and non-residential building construction advanced," Statistics Canada reported.
This is part of Canada's magnificent housing bubble, which is still red-hot in Toronto and Vancouver, and must be maintained at all costs, for the benefit of all sectors involved, from construction to brokers. And so the Bank of Canada has cut interest rates in July to 0.5%, the second desperate cut this year [read… Bank of Canada Sees Global Economy, Freaks Out, Cuts Rate, Warns of Financial Stability Risks, Loonie Plunges].
But that magnificent housing bubble, which is already hissing hot air in the oil patch, is at risk even in Vancouver and Toronto, as Toronto-Dominion Bank warned on Friday:
When we put it all together, key housing indicators on balance continue to highlight the vulnerability of the Toronto and Vancouver housing markets to a significant correction in activity and prices.

In light of its hotter price performance over the past three to five years and greater supply risk, this vulnerability appears to be comparatively high in the Toronto market.
To soothe our already ragged nerves, TD Bank said that it sees for Toronto a "'medium' rather than 'high' risk to the kind of painful and disorderly price adjustment that was endured in the United States a half-decade ago."
The most worrying metric in TD Bank's color-coded indicator is the existing home price-to-income ratio. It's dark red.
For years, prices have soared far faster than incomes. But even with ultra-low interest rates and aggressive lending, the pool of potential buyers is shrinking. And the market can't rely forever on the influx of wealthy Chinese and other foreign buyers, while a growing portion of the local population is shoved aside.
As Canada is wobbling into at least a technical recession, the government has been adamant that it's not heading into any kind of real recession. And that story must be kept alive until the election in October. So Canada-based cartoonist David Parkins puts the dilemma of Prime Minister Stephen Harper and Finance Minister Joe Oliver into hilarious perspective:
Technical or not, it's ain't pretty: Parkins on Harper and Oliver in grip of something ugly #cdnpoli #cdnecon pic.twitter.com/KJ0Ra1w800

— Stephen Wicary (@wicary) July 31, 2015
For a long time, conservative mortgage standards have been touted as one of the reasons why Canada's magnificent housing bubble, when it implodes, will not take down the financial system, unlike the US housing bubble, which terminated in the Financial Crisis. But now Canada's largest non-bank mortgage lender threw a monkey wrench into this theory. Just the tip of the iceberg? Read… Liar Loans Pop up in Canada's Magnificent Housing Bubble
Enjoy reading WOLF STREET and want to support it? You can donate. I appreciate it immensely. Click on the beer and iced-tea mug to find out how:

Would you like to be notified via email when WOLF STREET publishes a new article? Sign up here.