Maybe we shouldn't take our daily corporate samples too seriously. Maybe they don't adequately represent the global economy. So IBM's revenues last quarter plunged 13% from a year ago. It blamed China and the dollar, among other culprits. But IBM's revenues have dropped for 13 quarters in a row. It's a normal IBM condition and not a reflection of the global economy.
A whole slew of other tech companies chimed in with either disappointing revenues or disappointing outlooks, or both, each blaming a variety of issues, among them China and the dollar. Chip maker Qualcomm just reported a 14% plunge in its quarterly revenues. It's having trouble in the smartphone market and will lay off a bunch of people. But maybe they're just running into tougher competitors, rather than a lousy global economy. And the PC business, which is cratering, is dragging down all those involved. That's structural and has little to do with the state of the global economy.
Then there's industrial giant United Technology which reported that its revenues last quarter dropped 5%. Today Caterpillar reported that global machine sales plunged 15% in June compared to a year ago, after having dropped 12% in May and 11% in April, In Asia, machine sales plunged 19%, in Latin America 50%. And in booming North America? Down 5%, after having been up for the prior two months.
So CAT is facing Japanese, Chinese, and German competitors. It's having to slug it out with them in China precisely when China is slowing. So it may be just CAT that's having a hard time.
But don't look at energy. Energy is getting clobbered….
So maybe we're cherry-picking negative data. There are companies with actual revenue increases and positive outlooks, like Equifax, the credit bureau, which just reported a 10% jump in revenues (14% "in local currency," as it says). Consumer borrowing is king, and Equifax expedites the process.
So what the heck is going on?
Turns out, global trade during the quarter and during the first five months of the year experienced the sharpest drop-off since the Financial Crisis.
The CPB Netherlands Bureau for Economic Policy Analysis, a division of the Ministry of Economic Affairs, just released its latest Merchandise World Trade Monitor, which covers global import and export volumes. It was dreary.
World trade shrank 1.2% in May from the previous month. The index fell to 135.1, the lowest level since July 2014, having dropped nearly every month so far this year. It's down 4.7 points from its peak in December, the sharpest and longest decline since the Financial Crisis.
This chart, going back to January 2012, shows the very crummy state of the global economy, expressed in global trade: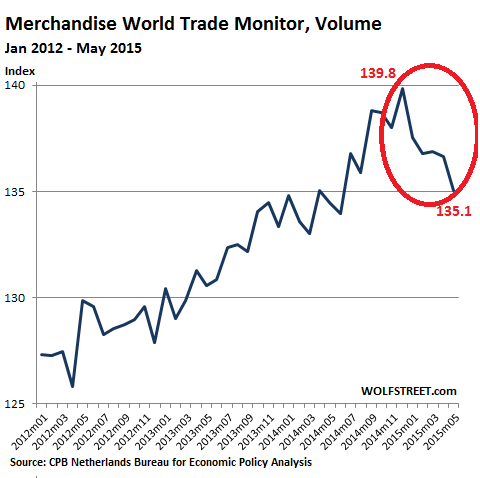 To smoothen out the volatility of these sorts of monthly numbers – though there hasn't been much volatility this year, it's been just down – the CPB offers a measure of trade volume "momentum," which it defines as "the change in the three months average up to the report month relative to the average of the preceding three months."
That trade momentum measure slumped 1.3% in May, after having dropped 1.2% in April. It now amounts to the most negative "momentum" since the Financial Crisis.
The report explains: "Import and export momentum were close to zero in advanced economies, while both numbers were below 2% in emerging economies." The chart from CBP, going back to 2010: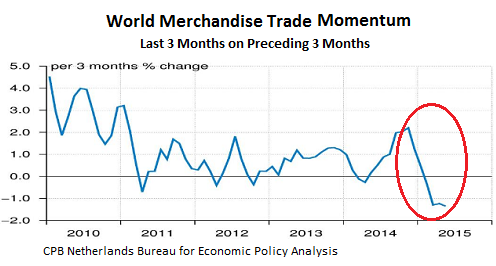 This isn't stagnation or sluggish growth. This is the steepest and longest decline in world trade since the Financial Crisis. Unless a miracle happened in June, and miracles are becoming exceedingly scarce in this sector, world trade will have experienced its first back-to-back quarterly contraction since 2009.
Both of the measures above track import and export volumes. As volumes have been skidding, new shipping capacity has been bursting on the scene in what has become a brutal fight for market share [read… Container Carriers Wage Price War to Form Global Shipping Oligopoly].
Hence pricing per unit, in US dollars, has plunged 14% since May 2014, and nearly 20% since the peak in March 2011. For the months of March, April, and May, the unit price index has hit levels not seen since mid-2009.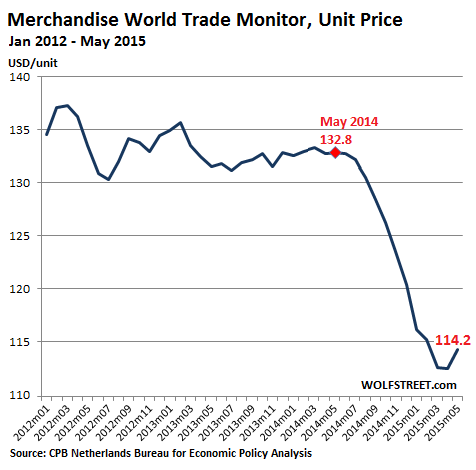 World trade isn't down for just one month, or just one region. It wasn't bad weather or an election somewhere or whatever. The swoon has now lasted five months. In addition, the CPB decorated its report with sharp downward revisions of the prior months. And it isn't limited to just one region. The report explains:
The decline was widespread, import and export volumes decreasing in most regions and countries, both advanced and emerging. Import and export growth turned heavily negative in Japan. Among emerging economies, Central and Eastern Europe was one of the worst performers.
Given these trends, the crummy performance of our heavily internationalized revenue-challenged corporate heroes is starting to make sense: it's tough out there.
But not just in the rest of the world. At first we thought it might have been a blip, a short-term thing. Read… Americans' Economic Confidence Gets Whacked
Enjoy reading WOLF STREET and want to support it? You can donate. I appreciate it immensely. Click on the beer and iced-tea mug to find out how:

Would you like to be notified via email when WOLF STREET publishes a new article? Sign up here.