In San Francisco, a boom is always associated with its essential counterpart, the bust. They're as typical to the city as sun and fog. And currently, the city is in one heck of a housing boom, but the national indices don't quite do justice to how over-the-top mind-blowing crazy the situation has gotten.
For example, the S&P/Case-Shiller Home price index covers not just the city or county of San Francisco (identical) but includes four other Bay Area counties: Alameda, Contra Costa, Marin, and San Mateo. There are more counties in the Bay Area, but they're not included in the index. Two of the cities in these counties – Richmond and Oakland – have made the lists of the nation's most dangerous cities, justified or not, and home prices in these cities and other cities too are much, much lower.
So in terms of home prices, the five-county Case-Shiller index for "San Francisco," though showing a significant gain, waters down the craziness happening before our very eyes in the real San Francisco.
For the most current granular neighborhood-by-neighborhood data for San Francisco itself, we go to Paragon Real Estate Group's May 2015 report, and what we find are vertigo-inducing price increases that have now beautifully spiked.
During the prior nationwide housing bubble that blew up with such fanfare, helped take down the world financial system, and caused central banks and governments to instigate the largest bail-out schemes the world has ever seen – from banks to entire countries – well, during that bubble, while it was still going on, homes in San Francisco reached what afterward were called totally crazy valuations, with the median price topping out in November 2007 at a completely mind-boggling $895,000.
People were shaking their heads at the time. But after the boom came the inevitable bust. By January 2012, the median home price had plunged 31% to $615,000.
By then, the tsunami of money that the Fed had unleashed was already washing over San Francisco from multiple directions: a stock-market and startup boom that the city is so dependent on, a tourist boom from around the world, waves of foreign buyers too, and a veritable flood of nearly free funding. Everything came perfectly together. Over the course of three years and four months, the median home price about doubled to $1,225,000.
January is typically the low point in the seasonal fluctuations of the median price. Paragon notes that sales prices in one month reflect deals negotiated in the prior month or two. So from January to April last year, home prices surged 15%. The four-month surge in 2013 hit 20%. But look at that gorgeous 32% spike so far this year! That's what a real boom looks like: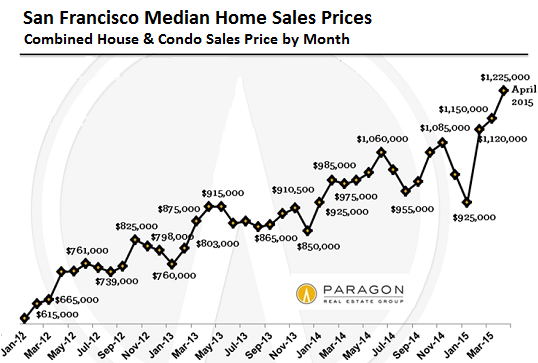 The median home price is now 37% above the prior-bubble completely mind-boggling median price that afterwards everyone admitted had been based on totally crazy valuations.
This has a real impact on rents, with average asking rent in the first quarter hitting $3,458 a month, or $41,500 per year.
On a neighborhood-by-neighborhood basis, the differences in median home prices are enormous. Below are two charts from Paragon. The first chart shows median prices of houses; the second chart shows median prices of condos and co-ops. In some neighborhoods, houses dominate. In others, condos and co-ops dominate. So not all neighborhoods made it into both charts.
In the chart below, the median house prices range from $610,000 in Bayview, one of the more troubled neighborhoods, to nearly $6 million in Pacific Heights. It is in this exclusive, gorgeous, and groomed neighborhood, endowed with breathtaking views of the Bay, where you find the humble abode of the champion of the poor, former Speaker of the House Nancy Pelosi.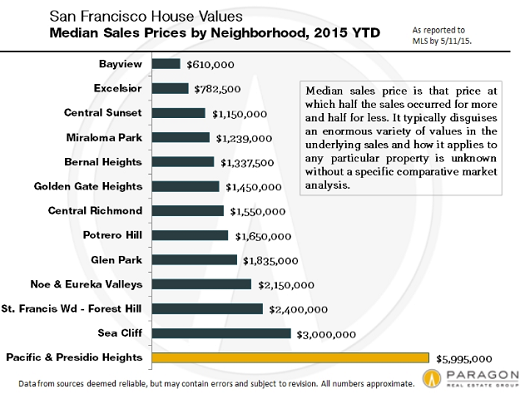 The chart below shows median prices of condos and co-ops. Prices too vary from one end to the other, but not by as much as prices in the prior chart: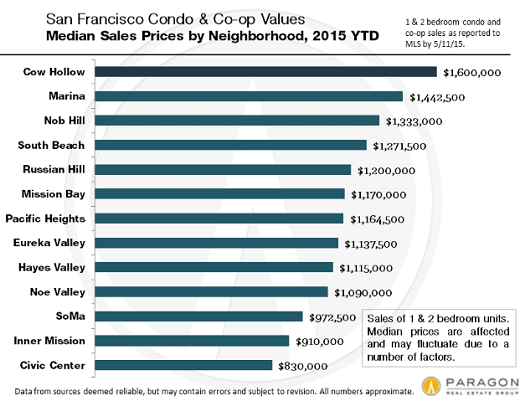 The extraordinary moolah that developers make at these prices has kicked off a construction boom – to be followed, as always, by the inevitable bust.
"The new-home development situation in San Francisco is fascinating – and a fierce political issue," Paragon explains. Probably one of the biggest understatements of the year. And this is what the construction boom-and-bust cycle looks like through 2014: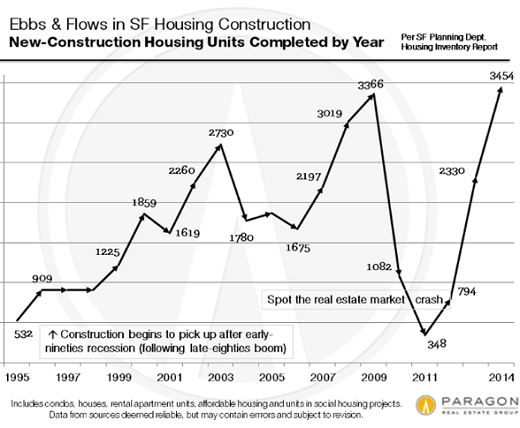 This year promises to be even more ebullient. Cranes are sprouting in some neighborhoods like mushrooms. Lots that have been vacant for years or decades suddenly see construction work. This place is hopping. According to Paragon's Housing Construction report: "99% of all new construction being built for sale consists of new and usually high-end condos."
New home development often goes through gigantic boom and bust cycles. What complicates the issue for SF developers is that from start to finish, from creating plans for city review to completing construction, the process can easily take 4 to 6 years. Right now, both residential and commercial developers are making enormous bets on a long, sustained, up cycle in the SF economy and real estate market.
They're certainly not betting on the next bust.
Most of it is happening in the eastern quarter of the city (Paragon map) near the Market Street corridor, the Van Ness Street corridor just north of Market, and in the large area southeast of Market where sleek condo towers are replacing former commercial and industrial sites. Zoning in these areas "allows for large – sometimes very large – projects," Paragon points out. Which you can't do easily or at all in other areas of San Francisco. And people are already complaining that it doesn't even look like San Francisco anymore.
So in this environment, how many years does it take to save up for a down payment in San Francisco and other US cities if you earn the local median income? Are you sitting down? Read…  How Soaring Housing Costs Impoverish a Whole Generation and Maul the Real Economy
Enjoy reading WOLF STREET and want to support it? You can donate. I appreciate it immensely. Click on the beer and iced-tea mug to find out how:

Would you like to be notified via email when WOLF STREET publishes a new article? Sign up here.