The recently vaunted decline in US crude oil production, supported by granular estimates, has been used in rationalizing the newly sizzling rally in oil prices. Analysts are digging through local details to come up with clues where this might be going. Money is re-pouring into the sector. And folks are already espousing the next stage, that the glut is over and that a shortage will set in soon, or something.
Alas, the decline in US oil production is, let's say, relative. The EIA estimated that in the week ended May 1, producers pumped 9.369 million barrels per day. So that's down from the crazy peak set during week ended March 20 of 9.422 MMbpd. Halleluiah, production is back where it was on March 6! And it's up 12.2% from a year ago!
Note the circled areas in the chart: these weekly estimates are inherently volatile. In 2014, there were several periods of much sharper declines, even before the oil bust began in early July. Compared to those declines, the recent levelling off – and that's all it is at this point – seems mild.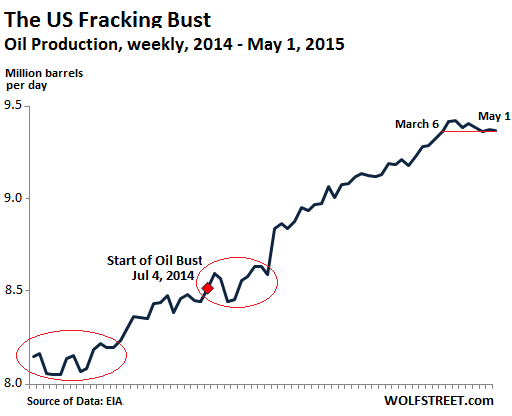 With US crude oil production on a weekly basis just a smidgen off its crazy peak in March, the other two of the world's top three producers aren't cutting back either.
Russia pumped 10.71 MMbpd in April, same as in March. Both months beat last year's post-Soviet record average of 10.58 MMbpd.
And Saudi Arabia produced a record 10.31 MMbpd in April, after having already set a record in March of 10.29 MMbpd, "a Gulf industry source" told Reuters today. Production in both months beat the prior record going back to the early 1980s of 10.2 MMbpd set in August 2013.
So forget the long-rumored decline in production in Saudi Arabia. It is going to do what it can to get a handle on this situation, from its point of view: it will no longer cede market share. For Saudi Arabia, it's a matter of survival. It won't be pushed aside by high-cost, junk-bond-funded, eternally cash-flow-negative producers in the US.
And it needs to fund its bombing campaign and other activities in Yemen. These things cost real money.
But Reuter's "source" couched it in non-confrontational terms, pointing out that this record production was "an indication of strong demand, especially from Asia, as well as increasing domestic consumption during summer."
Granted, it's time to crank up the air conditioner in Saudi Arabia, and thus get the oil-fired power plants to produce the juice and burn the oil. But wait….
Demand in Asia is lackluster. And in terms of domestic demand: wasn't that the same deal last summer? And the summer before? Doesn't it get hot in Saudi Arabia every summer? So why these sudden record levels of production? No, this is all about Saudi Arabia's determination not to be totally marginalized in the global oil markets by the US fracking boom.
Being the low-cost producer, state-owned Aramco has plenty of leeway – something US producers lack. They're hanging on by their teeth while trying to bamboozle investors and banks into giving them more money to drill into the ground. And producers in Russia, cut off from Western funding, need those petrodollars more than ever. They aren't going to back off anytime soon. So it looks like this might take a while longer to get worked out, one way or the other.
And exactly, how hot is demand in China, the largest oil importer in the world? When the People's Bank of China spoke of "big downward pressure," it wasn't kidding. Read…  China Downturn Hits US Automakers
Enjoy reading WOLF STREET and want to support it? You can donate. I appreciate it immensely. Click on the beer and iced-tea mug to find out how:

Would you like to be notified via email when WOLF STREET publishes a new article? Sign up here.