"By restricting capital spending to their highest-return assets and reducing development activity," oil and gas companies are trying to preserve liquidity, Moody's explained last week: in aggregate, E&P companies will cut 2015 capital expenditures by 41%. Investment-grade companies, which have not yet lost access to the cheap-money circuit, will reduce CapEx by 36%. But junk-rated companies, which have largely been locked out, will slash CapEx by 47%, Moody's estimated. And 21% of E&P companies will slash their CapEx by over 60%.
That's a lot of drilling activity that won't be happening. But Moody's was a little late because the slashing, as measured by the number of rigs drilling for oil in the US, has already reached record levels.
In the latest week, drillers idled another 41 oil rigs, according to Baker Hughes. Only 825 rigs were still active, down 48.7% from October. In the 23 weeks since, drillers have idled 784 oil rigs, the steepest, deepest cliff-dive in the history of the data: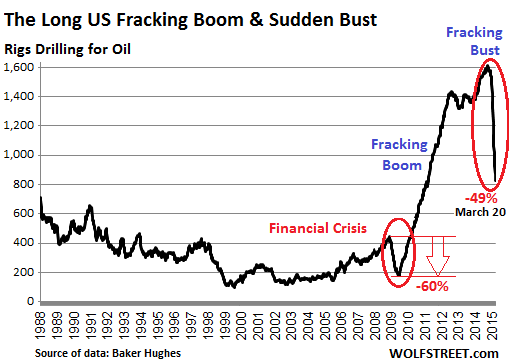 The number of rigs drilling for natural gas dropped by 15 to 242, the lowest rig count since March 1992 and down 85% from its peak in 2008.
And yet, production is still rising relentlessly.
Natural gas production jumps from record to record. On a weekly basis, it has recently been running about 8% ahead over the same week last year!
Oil production soared by an average of 53,000 barrels per day to 9.419 million barrels per day during the latest reporting week ended March 13, the EIA estimated. The chart, going back to January 2014, compares average daily US crude oil production, as estimated on a weekly basis (blue line, left scale) to the oil rig count (red line, right scale):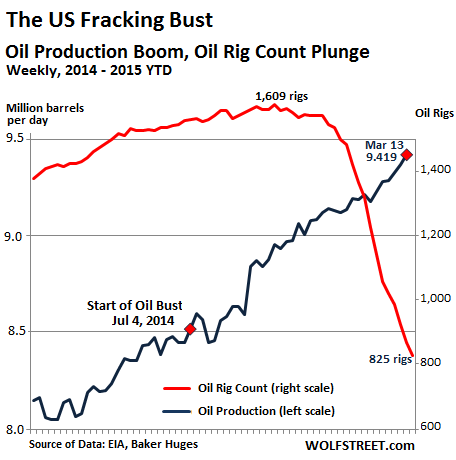 As a consequence of the US oil boom that has been outrunning demand by a wide margin, crude oil inventories have been ballooning. During the latest week, crude oil stocks jumped by 9.6 million barrels to 458.5 million barrels, according to the EIA. To put this into perspective: in seven days, crude oil stocks gained by more than one day's production! Total stocks are now 22% higher than they were last year, and at the highest level in the data series going back 82 years. This is what that spike looks like: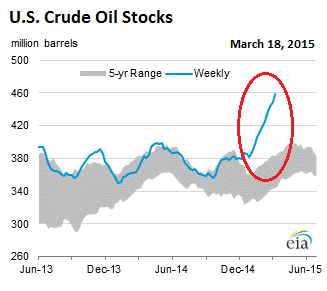 Rampant speculation is now circulating that the US will run out of crude oil storage capacity, that the critical storage facilities in Cushing, OK, which serves as delivery point for WTI futures contracts, could be full as soon as April. All kinds of numbers are being thrown around to support these assertions.
It reminds me of early 2012, when the same assertions were being propagated about natural gas: storage would be full by the summer or fall that year, and any additionally produced natural gas would have to be flared, that is burned, because there would be no place to put it. And its price would drop to zero.
These assertions caused the price to drop to a decade low in April 2012. But when it became clear that storage facilities could accommodate the natural gas just fine, the price rallied and squeezed the shorts. I expect a similar move in oil. Driving season starts soon. So fasten your seatbelt.
But any rallies will likely have a limited lifespan…. Once again, the same thing that happened in natural gas years ago is now happening in oil. E&P companies have drilled but have not completed or tapped thousands of wells – more than 3,000, according to estimates from Wood Mackenzie and RBC Capital Markets.
"Production" only occurs when oil comes out of the ground. Drillers keep the oil in the ground either as a form of storage to outwait the price collapse or to preserve liquidity by saving the considerable costs of completing the well. That oil adds to pent-up supply. It no longer needs rigs to be produced. The rigs used to drill those wells are reflected in the rig count of the past.
The industry has invented a new term for it, the "fracklog" [Oil Investors, Beware The "Fracklog"]. And it will drag out the oil bust just like the natural gas wells that hadn't been hooked up to pipelines – but that are now hooked up – are dragging out the natural gas bust. This is serious business, much more serious than the excess in crude oil stocks.
The excess of crude oil stocks is a global phenomenon, and it's facing a new hiccup. Read… Just as Global Oil Glut Deepens, China Cuts Oil Imports
Enjoy reading WOLF STREET and want to support it? You can donate. I appreciate it immensely. Click on the beer and iced-tea mug to find out how:

Would you like to be notified via email when WOLF STREET publishes a new article? Sign up here.