The previously down-trodden, despised dollar has seen a hockey-stick-like surge since mid-2014. Now the entire world is bullish on the dollar. And kicking the euro around has come to be more popular than soccer. Which triggers all sorts of alluring thoughts and promising ideas in the minds of contrarians.
But before you read the article below, and before you follow any alluring thoughts, let me remind you of what DoubleLine Capital's Jeffrey Gundlach said on March 10:
The dollar strengthened today, and it is still accelerating, and that is being interpreted as negative in certain risk markets.

The dollar has been a world beater, and will continue to be a world beater until it becomes economically too painful, and maybe that's what the stock market doesn't like.
It would be a bold contrarian move to short the dollar, he said, "but I say 'don't do it', because sometimes the consensus is right."
At least for a while.
With this in mind, enjoy Jeff Clark's article. It sheds a lot of light on just how precarious the perch is to which the dollar has climbed.
The U.S. dollar rallied again last week – tacking another 1.78% onto its extended rally. The current rally is the most dramatic rise we've seen in the buck in the past 20 years. And, like most big rallies in just about any asset, traders are piling into it in anticipation of further gains. But the dollar's parabolic move is likely coming to an end.
Take a look at this long-term, monthly chart of the U.S. Dollar Index plotted alongside its 50-day moving average (DMA)…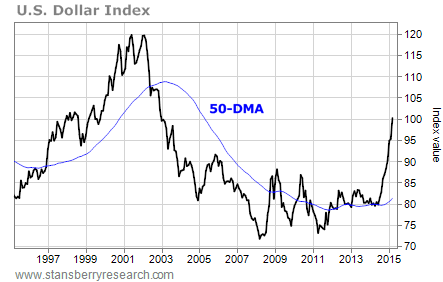 The dollar is up 25% in the past eight months. That would be a terrific gain for a stock – though not uncommon. But it's an amazing gain for a currency – which tends to be much more stable. And traders are continuing to pour into the dollar.
Interest rates in several European countries have dipped into negative territory – meaning depositors are now paying banks to hold their funds. Meanwhile, there's a growing conviction that the Federal Open Market Committee (FOMC) is going to start raising rates here in the United States. So money is flowing out of Europe and into the U.S. That action strengthens the dollar and weakens the euro.
And currency traders are lining up to profit off it. The most popular currency trade on the planet right now is to be long the dollar and short the euro. But the markets don't usually reward popular trades. We've seen this sort of lopsided currency betting before. And the trades almost always break down.
For example, in May 2010, Greece was threatening to default on its debts. Spanish banks were in trouble. Ireland, Italy, and Portugal were facing liquidity issues. So currency traders were rushing to sell euros and buy dollars. The dollar rallied 7%-plus in May. I warned the trade was going to blow up. And it did. The dollar fell 10% over the next two months.
The same thing happened in 2011. Greece was once again threatening to default. Spanish banks were in trouble. The European Union was on the brink of collapse. Traders rushed into the dollar and it gained 5% in May 2011. But it gave up all of those gains in June.
Fast forward to today… Europe is a mess. The FOMC is looking to raise U.S. interest rates. Traders are piling into the long-dollar/short-euro trade – even after the dollar has experienced its biggest rally of the past 20 years. If there was ever a situation in which the market had a chance to punish the most traders… this is it.
I told you the dollar was going to break down a few months ago. The dollar has gathered even more strength since then. And it's possible the dollar could squeeze a little higher in the short term from here. But with the trade being so popular today, and with the dollar rally so far extended, the most popular trade on the planet is setting up to explode. By Jeff Clark, The Growth Stock Wire
The US economy hasn't been firing on all cylinders, recently. But now there's a new development. Read…  Economy Finally Reaches "Escape Velocity," Heads South
Enjoy reading WOLF STREET and want to support it? Using ad blockers – I totally get why – but want to support the site? You can donate. I appreciate it immensely. Click on the beer and iced-tea mug to find out how:

Would you like to be notified via email when WOLF STREET publishes a new article? Sign up here.

Many experts agree that metal roofs are a great defense against wildfires. Click here or call 1-800-543-8938 for details from our sponsor, the Classic Metal Roofing folks.
Classic Metal Roofing Systems, the leader in fire safe roofing for residential applications, manufactures products that are 1/20 the weight of most tile products and eligible for Class A, B, or C fire ratings as determined by roof preparation.