Wholesale inventory-sales ratio balloons to Lehman-Moment levels.
A lot of economists, particularly those quoted in the media, claim that rising inventories are a sign of confidence, that merchants believe that the future is rosy, that sales will be good. There is some truth to that. Merchants stock up for expected good times. But when these hopes of good times turn into sales that are less than rosy, these inventories begin to pile up, and the ratio of inventories to sales suddenly takes a nasty turn.
Inventories tie up precious working capital, so companies manage them aggressively. But in the US, wholesale inventories have been ballooning since summer. And they now have become a red flag for the economy.
Part of the problem: hopes meet crummy sales. December sales by merchant wholesalers (except manufacturers), adjusted seasonally but not for price changes, fell 0.4% from November to $449.8 billion, the Census Bureau reported today. Year-over-year, they rose a mere 1.4%!
The good part: sales of durable goods jumped 7.3% from a year ago, with a number of big gainers, including electrical equipment up 13.4% and metals up 14.3%. But non-durable goods sales dropped 3.5% from a year ago. Wholesales of petroleum products, including gasoline, plunged 13.7% for the month and 29.4% from a year ago.
Among non-durables, drug sales – not including pot and other things that are still controlled substances on the federal books – rose 17.8% from a year ago to $44.7 billion in December, in line with America's intention of turning an increasing part of its wealth over to Big Pharma.
But wholesale inventories rose to $547.6 billion by the end of December, up 6.7% from December 2013 – though sales had inched up only 1.3%.
Durable goods inventories jumped 7.8% from a year ago. Among the standouts: automotive up 9.3%, computers up 12.6%, metals up 13.0%, hardware up 12.8%. Among nondurable inventories, drugs shot up 19.9%. But don't blame petroleum products, such as gasoline held by wholesalers, for the rise in inventories: petroleum products inventories plunged 19.1%
The crux of all this is the ratio of inventories to sales. It shows the level of inventories wholesalers carry in relationship to their sales. It indicates whether they're short on inventories or overstocked.
In December, the wholesales inventory-to-sales ratio reached 1.22, after rising consistently since July last year, when it was 1.17. It is now at the highest – and worst – level since September 2009, as the financial crisis was winding down: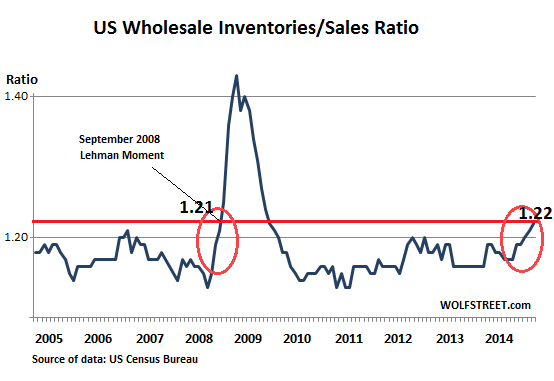 Rising sales gives merchants the optimism to stock more. But because sales are rising in that rosy scenario, the inventory/sales ratio, depicting rising inventories and rising sales, would not suddenly jump. But in the current scenario, sales are not keeping up with inventory growth.
OK, sales of gasoline and other petroleum products plunged as the price plunged. But their inventories dropped too. At $16.9 billion, these inventories are always lean. Dwarfed by most other categories, they don't impact overall inventories that much. The inventory/sales ratio for petroleum products rose to 0.34 from 0.30. So this isn't the big cause of the inventory problem.
The cause is elsewhere. Some of the standouts: the inventory/sales ratio for Automotive rose to 1.56 from 1.52 a year ago, for Professional Equipment to 1.09 from 1.03, or for Computer Equipment to 0.88 from 0.79.
But unless an unlikely miracle happens on the sales side, wholesalers will begin managing their inventories more aggressively to bring them in line. And to do that, they'll trim orders to their suppliers, which will percolate through the economy.
This was one of the things that happened in 2008, prior to the Lehman Moment. The inventories/sale ratio in January 2008 was 1.16 – just where it was in December a year ago. But then it rose. In September 2008, it reached 1.21, below where it is now. The next month, it hit 1.25. Check out the chart above. By then, the economy had entered a terrible downward spiral, with sales plunging and inventories ballooning, triggering a near shut-down of the ordering process throughout the pipeline. And even if something much milder happened these days, which is likely in the near future, it would still muck up our rosy scenario.
As the collapse of the price of oil is beginning to reverberate through the economy, the banks and private equity firms that have funded the fracking boom and benefited from it, must have a V-shaped recovery in place by late 2015, or else. Read… Wall Street Has a Dream About the Price of Oil
Enjoy reading WOLF STREET and want to support it? You can donate. I appreciate it immensely. Click on the beer and iced-tea mug to find out how:

Would you like to be notified via email when WOLF STREET publishes a new article? Sign up here.