Rig count for oil and for gas: two separate fiascos
Oil-and-gas exploration and production companies in the US have announced cutbacks of 30%, 40%, or 50% and beyond in operating budgets and capital expenditures. They want to survive in an environment of plunging oil and gas prices, and hence plunging revenues. They loaded up on debt, and that debt is now exacting its pound of flesh.
These companies lease drilling rigs from oil-field services companies, such as Halliburton. When the going gets tough and they run out of borrowed money, they stop leasing rigs, and they try to get out from under the rigs that they have already contracted for. It's a slow process. But it has begun.
The number of rigs drilling for oil in the US dropped another 55 in the latest week to 1,366, the lowest since October 2013, down 15.1% from the peak in the second week of October last year, when 1,609 rigs were drilling for oil.
The rig count had already dropped by 61 in the prior week, the largest week-to-week drop in Baker Hughes' data series going back to 1987. In percentage terms (-4.12%), it had been the largest drop since the Financial Crisis.
In both weeks combined, the rig count plunged by 116, or 7.8%. The last time it started plunging like this for two weeks was in December 2008 (also down 7.8%, ironically), during the stock market crash.
The standouts:
California lost 4 active oil and gas rigs in the latest week, bringing the rig count to 18 (including 1 offshore), from 45 rigs (including 2 offshore) reported on November 21. In those eight weeks, the rig count plunged 60%! Drilling is coming to a halt in California.
North Dakota, second largest oil-producing state, lost another 6 rigs in the latest week, to 156 active rigs. Down 13.3% in five weeks.
Texas, the largest oil-producing state, got hit the hardest, not in percentage terms – that honor belongs to California – but in number of rigs that have been evaporating: 44 in the latest week. The oil and gas rig count is now at 766, the lowest since March 2011. That's down 15.4% from the peak of 905 rigs reported on November 21.
This is what drilling activity looks like across the US: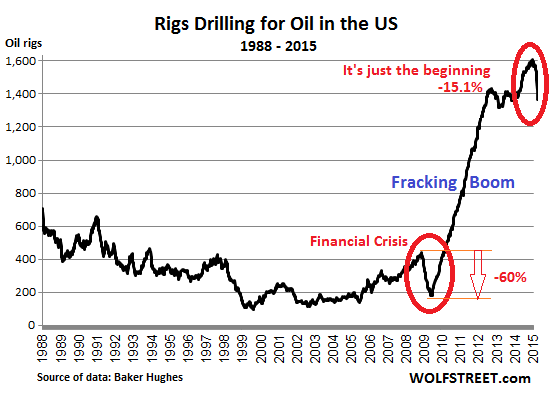 As I wrote a few days ago in This Is Just the Beginning of the Great American Oil Bust:
Estimates vary widely as to how far the rig cutting will go. Barclays' analyst Anderson estimated that at least 500 rigs could be idled in the American oil patch by the end of the year. Raymond James analyst Praveen Narra said that his firm estimated that up to 850 rigs could be idled this year. If 60% are idled, as was the case during the Financial Crisis, it would mean that 965 rigs would be taken out of service.

Over the last 10 years, the oil and gas business in the US has become huge, and the unwind will be huge as well.
Rigs drilling for natural gas follow a different pattern. The rig count collapsed years ago as the price of natural gas fell below the cost of production, after a phenomenal no-holds-barred fracking boom in the years before the financial crisis, which culminated in August 2008 when over 1,600 gas rigs were active. This resulted in a "gas glut" that killed prices, pushing them below the cost of production.
The rig count collapsed in two phases, first during the financial crisis, and then after a sucker rally, during the "gas glut." It has turned into a true fiasco for the industry and increasingly for its investors: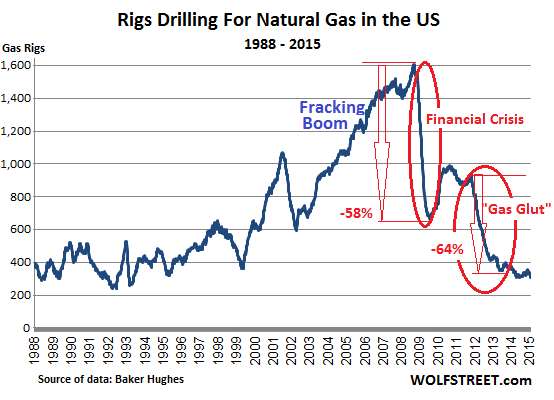 But why is production still rising after this kind of plunge in drilling activity?
There are a number of reasons, but one stands out: Numerous of these newly drilled and completed or partially completed wells couldn't be hooked up to pipelines because the growth of the pipeline infrastructure hadn't kept up with the drilling boom. These wells – by some estimates, 1,300 in the Marcellus alone – just sat there, waiting for the pipeline. Over the last two years, pipeline infrastructure has reached these wells, and despite the plunge in drilling activity, "production" – which is counted when natural gas reaches a trading hub, not when the well is drilled – has soared in 2014.
So the rig count for natural gas dropped 19 in the latest reporting week, to 310, matching the low of June 2014, levels not seen since May 1993! Yet, in the overall fiasco that natural gas drillers are facing, this is just another minor downtick, and barely visible on the chart.
And now, years of wondrous Wall-Street engineering dissolve in reality. Read…   Money Dries Up for Oil & Gas, Layoffs Spread, Write-Offs Start
Enjoy reading WOLF STREET and want to support it? Using ad blockers – I totally get why – but want to support the site? You can donate. I appreciate it immensely. Click on the beer and iced-tea mug to find out how:

Would you like to be notified via email when WOLF STREET publishes a new article? Sign up here.

Classic Metal Roofing Systems, our sponsor, manufactures beautiful metal shingles:
A variety of resin-based finishes
Deep grooves for a high-end natural look
Maintenance free – will not rust, crack, or rot
Resists streaking and staining
Click here or call 1-800-543-8938 for details from the Classic Metal Roofing folks.