Few economic phenomena compare to the soaring gambling revenues in Macau since it opened up to foreign casino operators in 2001. In 2002, Macau blew past Las Vegas. It's the only place in China where the Chinese can go and legally gamble away their money, and it's one of the key places where they can go to siphon their wealth – however they'd obtained it – out of Mainland China and beyond the reach of the muscular arm of the government. Even during the financial-crisis years 2008 and 2009, Macau gaming revenues grew, despite a horrendous seven-month plunge. 2009 was the worst year on the books, with revenue growth of only 9.6%. The rest of the years, double-digit growth was the norm.
During the first five months of 2014, revenues soared 15.8%. Nothing could stop Macau, or so it seemed. But in June, Macau's world changed with the first year-over-year revenue decline since the financial crisis. The soccer World Cup was blamed. VIP revenues, which used to account for 66% of total revenues, dropped an estimated 20%, a hole that increased marketing to regular folks couldn't fill.
In July, the expected post-World Cup bounce failed to materialize. So they blamed the investigation of Zhou Yongkang, former head of state security, the most senior guy yet to be knocked down by the corruption crackdown that would go after "tigers and flies" alike. VIPs were suddenly taking the crackdown seriously, it was said. In August, revenues dropped again. The Taipei District Prosecutors Office had indicted the Taiwan branch of Macau casino operator Melco Crown Entertainment for alleged violations of banking and foreign-exchange laws.
Month after month, gambling revenues plunged, and new culprits were found each time: the prelude to Chinese President Xi Jinping's visit to Macau in December; the pro-democracy protests in Hong Kong, just an hour away by ferry; Macau's tighter visa regulations; new curbs on the UnionPay credit card with which gamblers can get around China's currency controls, hitting mass-market Chinese gamblers more than VIPs; or the new smoking ban in casinos.
In November, it became known that Hong Kong had launched a money-laundering investigation into Cheung Chi-tai, one of Macau's top VIP-junket figures, and seven of his closely held companies, the SCMP reported. Junket promoters are commissioned by the casinos to entice VIPs to Macau with a variety of services, such as evading China's currency controls. Mr. Cheung has been one of the largest shareholders in a big junket operator, Neptune Guangdong Group. His assets were frozen under Hong Kong's Organized and Serious Crimes Ordinance. It might have scared the bejesus out of VIPs.
In December, revenues plunged 30.4% from a year earlier, according to the Gaming Inspection and Coordination Bureau (DICJ), the worst decline in the history of its data going back to 2002. Pundits had expected a decline but not this "shocker." It was the seventh month in a row of declines, matching the financial crisis record. Even after the glorious first five months, revenues for the year dropped 2.6% to 351.5 billion Macau patacas ($44 billion), the first revenue drop in the history of the data.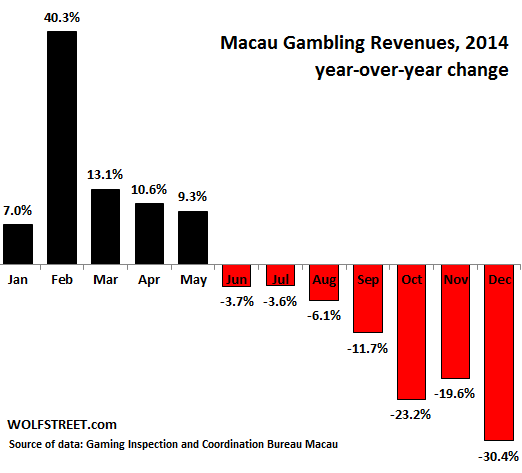 Shares of casino operators have gotten mutilated in the process, after their breath-taking multi-year rally: from their highs in early 2014, Sands China Ltd. dropped 44%, Wynn Macau 46%, Melco Crown Entertainment 50%, MGM China 46%, Galaxy Entertainment 49%, and SJM Holdings 55%. Junket operators have gotten hammered. The secondary effects are hitting high-end hotels, fancy restaurants, and vendors of luxury goods.
It didn't help that Xi, while in Macau in December, suggested that it should diversify away from gambling.
But Macau isn't about to give up on an activity that generates about 80% of its tax revenues. Casino operators are building even more casinos, such as the 3,000-room Parisian Macau with Eiffel Tower and all. This time the goal is to extract money from the mass-market Chinese, not VIPs – the "flies," not the "tigers."
By now, VIPs and the flies understand that the crackdown is serious business in China where corruption is the grease that makes the wheels turn. And removing the grease might make the already sputtering economy run a little rougher. Many of these "tigers" are connected to overleveraged industries dogged by overcapacity and faltering demand, such as the property sector, constructions, and heavy manufacturing that are now being put through the wringer of reality.
Even more troubling is a nasty correlation: Chinese GDP growth has been closely tracking Macau gaming-revenue growth since 2006, including the sudden cliff-dive during the financial crisis and the vertigo-inducing recovery afterwards, and at nearly every twist and turn since.
So they're suddenly expected to decouple, with Macau gaming revenues in free fall, and the Chinese economy, where these missing high-rollers are making their money, growing at over 7%? Miracles do happen, but they're rare.
More likely is that the Chinese economy is wheezing from the impact of lackluster demand, a credit bubble that is threatening to blow up, and a crackdown on corruption, the grease without which the economy has trouble functioning. The biggest beneficiaries of that system have gotten antsy and are reacting in a myriad ways. And Macau's gaming revenues – just as they did during the financial crisis – show thermometer-like that the Chinese economy, despite official protestations, is turning cold.
2014 was a tough year for many currencies. Some declined as part of the currency war. But others got hammered for reasons of their own. Among the losers was one that left terrible value destruction in its wake. But it wasn't the ruble. Read…  Worst Currency in 2014? (One You Might Actually Use)
Enjoy reading WOLF STREET and want to support it? You can donate. I appreciate it immensely. Click on the beer and iced-tea mug to find out how:

Would you like to be notified via email when WOLF STREET publishes a new article? Sign up here.