By Jeff Clark, The Growth Stock Wire:
Semiconductors have fired a warning shot. As the S&P 500 is just barely off its all-time high, the semiconductor sector is taking a nosedive.
The Philadelphia Semiconductor Index (SOX) fell nearly 4% last week, got hammered today, and is now down 6.9% from its all-time peak in mid-July. Individual semiconductor stocks fared even worse. Qualcomm (QCOM) declined 10% from its peak in mid-July. Applied Materials (AMAT) plunged 19% from its peak in early July, and Maxim Integrated Products (MXIM) 18% from its peak in June
Semiconductors tend to lead the market. So this could be the first sign of trouble. Take a look at this chart of the SOX (the chart is through Wednesday. On Thursday, the SOX dropped another 2.1% to 607):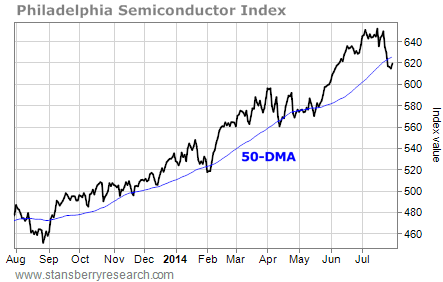 Last week, the SOX broke below its 50-day moving average (DMA). Most technical analysts view the 50-DMA as the "line in the sand" separating intermediate-term uptrends from intermediate-term downtrends. So when an asset is trading above the 50-DMA, it's bullish. When it's trading below the 50-DMA, it's bearish
Semiconductor stocks tend to lead the broad stock market. If chip stocks are strong, the broad stock market tends to rally. On the other hand, when the semiconductors are falling, the stock market falls as well. So the SOX's break below its 50-DMA last week may be an early warning sign of trouble for the stock market
But the SOX has fallen below its 50-DMA a few times already this year. It recovered from each of those breaks immediately and there was no significant harm caused to the sector or to the overall stock market
The recoveries were fueled in large part by the strength of Intel (INTC). In other words, the strong action in Intel pulled the semiconductor sector back into bull mode and kept the broad stock market from trending lower. Intel is just about the only semiconductor company that made it through last week unscratched. The stock remains near it highest price in 13 years
So the question is: Will the recent weakness in the semiconductor sector drag Intel down with it, or will Intel's strength pull the chip stocks back into rally mode
If Intel can remain strong and prop the SOX back above its 50-DMA, the stock market can continue its relentless move higher. On the other hand, if Intel starts to decline – keeping the SOX below its 50-DMA – we'll likely see the broad stock market finally fall into the long-awaited correction. Jeff Clark, The Growth Stock Wire.
Given the markets performance over the past few years, it appears that the only risk on the horizon is the Risk of Missing Out. Read…..  Scary Thought: Busiest IPO Week since Aug 2000 (Days before the Real Crash)