Ratings agency Fitch, which is in the business of slapping high-grade ratings on iffy bonds so that they can be sold to conservative pension funds around the world, and which is not in the business of considering entire asset classes overvalued, nevertheless considers the Canadian housing market "20% overvalued in real terms."
And that in a world where nearly all asset classes are overvalued! Natixis, the asset management and investment banking division of Groupe BPCE, the second largest bank in France, grappled with that issue and came out predicting the likelihood of another financial panic [ What Happens When 'All Assets Have Become Too Expensive?'].
But not in the Canadian housing market. To come up with the conclusion in its report, Fitch didn't look at an obvious chart, like the one below, or at other obvious measures, but at its own "sustainable home price model, which measures home prices relative to long-term fundamentals." If it had looked at the chart below, it wouldn't have come up with 20% but with a number closer to 100%.
Home-price bubbles are a risky business: "High household debt relative to disposable income has made the market more susceptible to market stresses like unemployment or interest rate increases," Fitch pointed out. In the third quarter, the household debt to disposable income ratio hit a record of 164.1%, though it has inched down a smidgen since then. And unemployment "will likely" remain stuck in "its current 7% range."
So what's propping up the market? Low interest rates. Alas, Fitch worries that "rising interest rates could pressure the market more than others given high borrower leverage and the short-term structure of Canadian mortgages."
Solution? Not raising interest rates, obviously. Not ever. Because that would prick the bubble and lead to a long, violent hiss as the hot air dissipates. Instead, the federal government should step in with additional regulations to cool down the market. Which it has already done, including shortening amortization periods to 25 years from 40 years and tightening the eligibility for government-backed mortgage insurance. In this manner, Fitch said, the government should try to "engineer a soft landing."
And this is what the Canadian home-price bubble really looks like (chart via OtterWood Capital Management). Note how it barely twitched when the home-price bubble in the US imploded, and how it has soared since: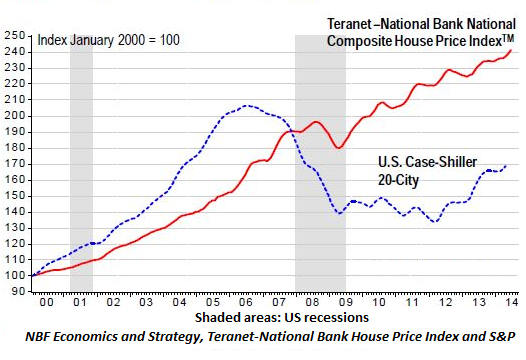 Home prices rose 8.1% so far this year through May, as opposed to 1.3% over the same period last year, according to the Canadian Real Estate Association. Soaring prices and household debt levels bring out the doubters. Dan Werner, an equity analyst at Morningstar, in a note to investors reported by Bloomberg, called a 25% to 30% retreat in home prices in Canada over the next five years "almost inevitable."
But Canadians aren't worried about a correction in the housing market: 47% believe home prices will rise over the next six months, up 10 percentage points from April, while only 11.6% believe they will drop, according to a poll by Bloomberg and Nanos Research Group. The last time Canadians had been this optimistic was in the propitious year of 2008.
Yet, not all is well in Canada. 'Hours Worked' plunged in the second quarter at a rate last seen during the middle of the Great Recession, a terrible harbinger of GDP growth and the housing market. Read…. Is Canada Next? (A Very Ugly Chart)
Enjoy reading WOLF STREET and want to support it? You can donate. I appreciate it immensely. Click on the beer and iced-tea mug to find out how:

Would you like to be notified via email when WOLF STREET publishes a new article? Sign up here.