The US economy, and by extension the world economy, is desperately waiting for the spring escape velocity to finally kick in. This American phenomenon has been forecast to occur for six years in a row now, with the prior five forecasts having turned out to be just a mix of political wishful thinking and unfettered Wall Street hype, followed by a shrug and an "ah shucks, maybe next year."
So while we were still waiting for the escape velocity, world trade, one of the major indicators of what's going on in the globalized economy, has descended into a very unpropitious slump.
World trade volume dropped 0.5% in March from February, after it had already dropped 0.7% in February, the CPB Netherlands Bureau for Economic Policy Analysis, a division of the Ministry of Economic Affairs, just reported in its March world trade report. For the first quarter, volume was down 0.8%, after a 1.5% increase in the fourth quarter.
To eliminate the inherent volatility of these kinds of monthly numbers, the CPB offers what it calls trade "momentum" data – which it defines as "the change in the three months average up to the report month relative to the average of the preceding three months." It eliminates some of the monthly up-and-down noise.
That trade momentum measure slumped 0.8% in March, after having edged down 0.3% in February. This is what it looks like, going back to 2010. Note the steep dive since late last year that entered negative territory in February: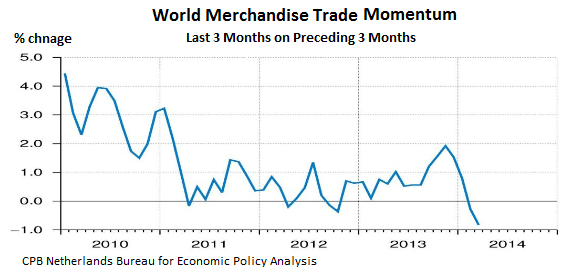 The CPB's Trade Index looks at it from a slightly different perspective. The chart below shows the steady rise of world trade volume from 2005 up to the global financial crisis, when things came to an abrupt halt and momentum went over the cliff, then the rapid recovery, and since late last year, the slump.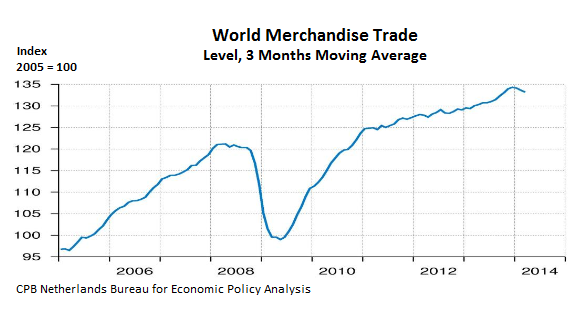 But it's even worse. While shrinking import volumes were concentrated in the emerging markets, there was "a remarkable increase" in imports by Japan. And there was a reason, a very temporary one.
Japanese households and businesses have been front-loading major expenditures, including building materials, machinery, cars, jewels, electronics, etc. in anticipation of the consumption-tax hike that took effect on April 1. The tax is very broad based, and by front-loading durable-goods purchases, buyers were able to save 3% (a tax free gain!) in a country where 10-year government bonds have been yielding below 1% for years. Front-loading was one heck of a deal. Everyone did it. And imports soared [here is my chart of Japan's increasingly out-of-whack trade deficit from 2011 through Q1 2014].
That temporary jump in imports by the third-largest economy in the world papered over some of the trade weaknesses elsewhere. Without that buying binge in Japan, trade momentum in the first quarter would have been even worse.
That's the good news.
"On the export side the picture was more negative," the CPB report points out. Exports volume fell across the board in advanced economies, but particularly in Japan and the Euro area, though it recovered in Central and Eastern Europe. And in the emerging economies, exports fell for the fourth month in a row. The elephant in that room was China.
Momentum declined in both, advanced and emerging economies. In the US, where the by now infamously illusory escape velocity is once again just about to occur, "import and export momentum remained negative."
Enjoy reading WOLF STREET and want to support it? You can donate. I appreciate it immensely. Click on the beer and iced-tea mug to find out how:

Would you like to be notified via email when WOLF STREET publishes a new article? Sign up here.