Structured Synthetic Securities Backed by Home Rental Payments
The strategy the smart money has been pursuing became public on April 30, when Leon Black, CEO of private-equity giant Apollo Global Management, explained to an incredulous Fed-bedazzled world, "We're selling everything that's not nailed down." Since then, PE firms and hedge funds have sloughed off assets by any means possible, including IPOs.
The latest in the bunch: Oaktree Capital Group and its partner Carrington Mortgage Services are trying to dump a portfolio of 500 single-family homes that they'd bought out of foreclosure, Reuters reported. They're trying to get the heck out of the hot buy-to-rent trade.
At least it was hot last year when Blackstone Group jumped into it, eventually gobbling up 32,000 foreclosed single-family homes in a dozen states for $5.5 billion, praying for, and getting, Fed-induced home price increases. It's now the largest landlord in the country. As always, banks are eager to fund any craze, with Deutsche Bank alone issuing $3.6 billion in loans for these purposes.
Other Wall-Street funded luminaries dove in as well. American Homes 4 Rent bought 19,000 single-family homes, Colony American Homes nearly 18,000, Silber Bay Realty Trust 5,370, Waypoint Homes 4,620, American Residential Properties 2,530…. In total, PE firms, rental REITs, and hedge-funds have raised over $17 billion to buy over 100,000 vacant, foreclosed single-family homes since 2011. Countless smaller companies and individual investors have jumped into the fray. The frenzy was back, nurtured by the Fed's QE and zero-interest-rate policy. All this craziness drove up home prices at double-digit rates and "fixed" the housing market. Thank you hallelujah Fed.
In the process, these homes were removed from the closely scrutinized for-sale lists and added to the for-rent lists, where they still languish. A debacle that is papered over by the booming apartment rental market: overall rental vacancy rates fell to 8.2% in the second quarter, the lowest since 2001. But single-family homes that had been bought out of foreclosure suffer vacancy rates of about 50%. These vacancy rates exert heavy pressure on rents.
The evil combination of jumping prices, sky-high vacancy rates, and compressing rents has raised the distinct possibility that the business model of buy-to-rent might not work – and that vast amounts of capital will be destroyed as this is being sorted out. But whose capital?
The Wall-Street funded, Fed-instigated buying frenzy has turned single-family homes, the bedrock of American society, into another speculative Fed-driven asset class, where prices jump and crash erratically. And now, the smart money has decided to sell. They too see the numbers.
One of the timeliest gauges of home prices is Redfin's Real-Time Price Tracker. It relies on sales contracts reported to the MLS data bases upon signing in the 19 metro areas where Redfin is active. Last week, it reported that in August the price per square foot – eliminates the issue of larger versus smaller homes –was up a bubbly 17.7% from last year on a 6.2% increase in volume. But on a monthly basis, prices had dropped 0.4%. The chart paints what could become the beautifully rounded top of a bubble.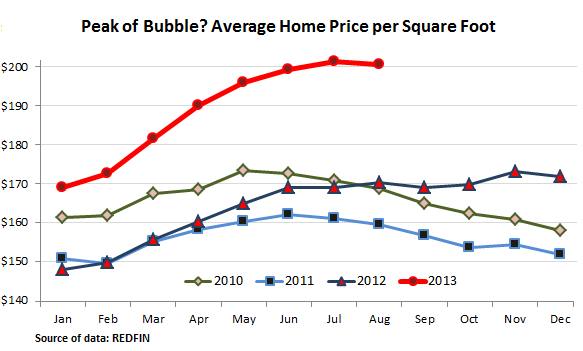 Price increases per square foot have been dizzying. Year over year, Las Vegas is up 38%, Los Angeles 25.5%, Phoenix 24.7%, Riverside 31.2%, Sacramento 37.8%…. But on a monthly basis, prices in August have turned around in some of the hottest markets, including San Francisco (-2.5%), San Jose (-0.7%), Seattle (-1.1%), and Washington (-0.5%).
There were other indications of trouble: volume dropped "uncharacteristically" by 4.3% from July's four-year high; normally volume rises, often strongly, in August. And of the active listings, 26% had their prices lowered, a four-year high – up from 11% in December. Brainwashed by media hype or given to wishful thinking, sellers had come up with asking prices that hit a wall of buyer resistance. A phenomenon that looks like this: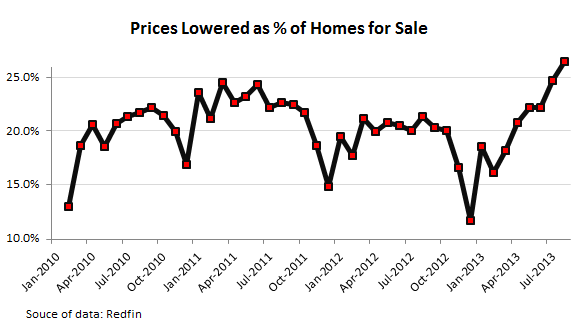 So, in this market where first-time buyers have become rare – down to 29% instead of the 40% in a healthy market – and where mortgage rates and prices have jumped, pushing these homes beyond the reach of many strung-out consumers, how can big investors dump hundreds or even thousands of homes at a time? They'd have trouble selling them to people who'd actually live in them. They can only Wall-Street engineer their way out of them. And that's what they're doing. Because someone's capital is going to be destroyed, and they don't want it to be theirs.
Blackstone planned to bundle monthly rental payments of about 1,500 to 1,700 of its homes into structured synthetic products to be hawked by Deutsche Bank to its hapless clients. A number of companies, including American Homes and Silver Bay, have converted their portfolio into publicly traded REITs to be shoved into mutual funds and then into retirement accounts.
Oaktree had already soured on the buy-to-rent business and had told its partner Carrington in the spring that it didn't want plow more money into it, according to Reuters. So they tried to go down the route of converting their portfolio into a rental REIT and unloading it to the public, but then abandoned that plan, given the rough waters REITs have encountered. Now they decided to just get rid of their portfolio outright. But "the asking price for the portfolio," Reuters pointed out, "could not be learned." Given recent trends, whatever that asking price may be, it may have to be lowered.
Prices may well have peaked. It's time for Wall Street to unload. The Fed has conveniently provided a bit more time by dillydallying around with its decision to taper its money-printing binge, while simultaneously downgrading the economy for the third time this year. It gave the impression of being mired in fear. It has many reasons to be afraid. But one in particular. Read…. Was The Fed Scared Of This Graph?
Enjoy reading WOLF STREET and want to support it? You can donate. I appreciate it immensely. Click on the beer and iced-tea mug to find out how:

Would you like to be notified via email when WOLF STREET publishes a new article? Sign up here.