The confidence of consumers in France is catching up with the economic situation in their country, where the state sector, which dominates the land with 56% of the economic activity, has been hobbled by budget woes, and where the private sector, which is struggling with an inscrutable labor code and slack demand, is suffocating under a pile of old and new taxes. Rien ne va plus, it seems.
Yet there were some welcome distractions for everyone: the bloody riots in central Paris this weekend offered up the illusion, at least on TV, that the primary problem, the one that would ultimately kill the Republic of France, was the recent passage of a law allowing same-sex marriages under the "Marriage for All" act, one of the planks in President François Hollande's campaign platform. Alas, the vast majority of French people have more pressing problems than trying to get in the way of lovers wanting to walk down the aisle.
The household confidence index by national statistical agency INSEE plummeted 4 points in May, to 79, its all-time low of July 2009 during the worst of the financial crisis. Back in the day, consumer confidence spent a year and a half climbing out of that hole to reach 93 in January 2010, only to zigzag back down in a series of sharp declines followed by sharp increases, with lower lows followed by lower highs, a classic descent to consumer-mood perdition.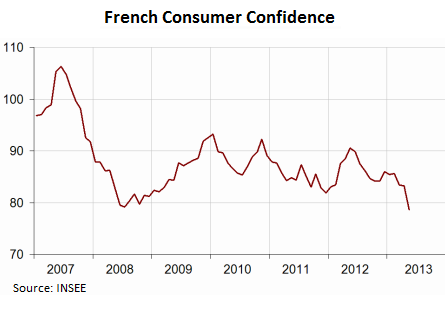 All sub-indices deteriorated, some sharply. The sub-index that measures households' current financial situation crashed 10 points to minus 38, the lowest since the series began in October 1972. The anticipation of unemployment rose to 81, also the worst on record. France's economic quagmire is now affecting consumer mood in a most profound manner.
Yet, don't blame the "debt crisis" in France; yields on French government debt hover near historic lows, and the costs of mortgages and other forms of consumer borrowing have hit rock bottom. While the debt crisis in periphery countries has impacted French exports, the fissures in the French economy run far deeper and won't be solved by the much hoped-for and still illusory economic uptick further south. This plunge in consumer mood to historic lows doesn't bode well for consumer spending or anything else. Solutions in sight? Hang on – the Hollande government is still looking!
Alas, one of the hottest solutions, a protectionist EU trade war with China, was just shot down by the world-trade duo, Chancellor Angela Merkel and Chinese Premier Li Keqiang, during their big trade shindig in Berlin over the weekend. Together they condemned the EU's efforts to impose a 47% punitive duty on cheap Chinese solar panels – a condemnation that received vibrant coverage in the French media. France 2, part of France's state-owned TV empire, spoke of another rift across Europe during its Monday prime-time news show 20 Heures: the "beer-drinking" north that wants free trade and the "wine-drinking" south that wants protectionism.
Despite all the economic problems amassing in France, and the consumers' sour reaction to them, one thing has only gotten stronger: the insane separation of the financial markets from reality – one of the great accomplishments of concerted central-bank efforts worldwide. And so the French CAC 40 stock market index has skyrocketed 38.6% from its 52-week low of 2,922 nearly a year ago to a 52-week high of 4,050 today.
Enjoy reading WOLF STREET and want to support it? You can donate. I appreciate it immensely. Click on the beer and iced-tea mug to find out how:

Would you like to be notified via email when WOLF STREET publishes a new article? Sign up here.