"Despite all of the rhetoric to the contrary, it looks like the air got let out of the balloon," commented the members of the Survey Panel of the ISM-Chicago Business Survey; the closely watched numbers had suddenly taken a turn for the worse. But the phenomenon wasn't limited to the Chicago area. And now there are real reasons for concern.
The survey's seasonally adjusted Business Barometer Index dropped to 56.2—still above 50, which indicated expansion, but it was the lowest level since November 2009. The graph below, depicting November 2009 to April 2012, shows the mini bubble that occurred from late 2010 to early 2011. But it is now starting to look ugly: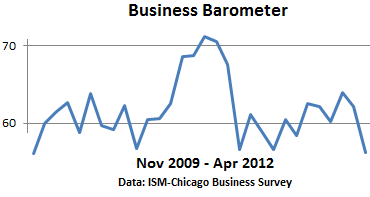 The Production Index dropped to 57.1, the worst drop and the lowest level since that horrendous May of 2011—which turned out to be a one-month fluke—and the second lowest level since September 2009.
The New Orders index swooned to 57.4 from 68.6 in March and 69.2 in February. At this level, orders are still growing, but much slower, and another decline might knock them into negative territory. In what may be a confirmation of the strength of the automotive sector relative to other sectors, members of the Survey Panel commented that "Automotive related orders have greatly increased from one year ago, but other areas of business appear to be softening." Hence, if auto sales ease off just a bit, watch out!
Those who have been eagerly looking for any signs, however small and inconsequential, that a new trend of "on-shoring" is bringing manufacturing back to the US, well, they've been largely disappointed, though there have been some positive signs in the automotive sector. And so another tidbit emerged that might infuse a sense of hope. According to comments by members of the Survey Panel:
Extensive off-shoring of manufacturing not without unseen cost. Apron strings are much harder to cut than originally anticipated. Improvements are often slow and painful. Yields far lower as a result. Tight inventories at suppliers continue to constrain inventory turn improvements by increasing risk of spike induced outages.
Already last week, the Chicago Fed's National Activity Index for March had taken a nosedive into negative territory to -0.29, the fourth month in a row of declines. "All four broad categories of indicators that make up the index deteriorated from February," the report pointed out dryly.
And now the Dallas Fed piled it on with its Texas Manufacturing Outlook Survey, outlining an economy that is rapidly losing steam, even in Texas. The data can be volatile from month to month, but this time, there were some worrisome standouts.
The index for current General Business Activity, after three months of solid growth, plummeted to -3.4 from 10.8 in March (a positive number reflects growth, a negative number reflects a decline). It was the lowest reading since September 2011 and the largest monthly decline since July 2010.
The Company Outlook index plunged to -4.5 from 9.5, the lowest reading since July 2010, and the sharpest monthly drop-off since May 2010.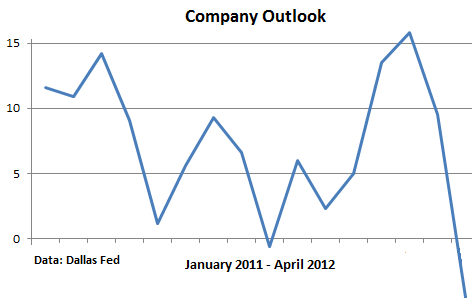 If this turns into a trend, it would be truly worrisome: in January 2008, as the Great Recession was taking shape, two months before Bear Stearns collapsed, the Company Outlook index registered -4.7 and then zigzagged down to -48 by February 2009.
The index for Hours Worked was a flashing red light for real on-the-ground weakness as it dropped to -4.6 from 2.9, the lowest since October 2010 and the worst monthly drop-off since July 2011. "Labor market indicators reflected sharply slower labor demand growth and shorter workweeks," the report said.
And new orders, which dropped to -1.0 after a drop in March to -0.3 didn't bode well for future business either. Production, though positive, fell to 5.6 from 11.1—still growing but barely, and at a slowing rate.
Consumer spending had been doing well in January and February but slowed to a minuscule 0.3% uptick in March. The historically warm winter might have encouraged consumers to accelerate their purchases at the expense of the next few months. Auto sales will be critical. They have been great, and the industry is drunk with exuberance, dreaming about 16 million units per year, the pre-crisis sound barrier that the industry broke through—before it crashed. But if consumers accelerated their auto purchases due to the warm winter, reality will come down on the auto industry like hail the size of tennis balls. And calamity economy will raise its ugly head again.
Enjoy reading WOLF STREET and want to support it? You can donate. I appreciate it immensely. Click on the beer and iced-tea mug to find out how:

Would you like to be notified via email when WOLF STREET publishes a new article? Sign up here.