Does this sound like a drug addict?
It just seems like human nature to ruin a good thing.
As much as I am a strong proponent of free market capitalism, and against complex regulations and central planning, I understand government's role in all this.
Capitalism and democracy teamed up in the late 1700s to form the big bang in economics, or what I call "When Harry met Sally." They're opposites that balance each other – capitalism rewards people for their contributions, and democracy ensures that greed doesn't take over.
We took Adam Smith's theory of the "invisible hand," limited government and laissez faire politics… and combined it with Alexander Hamilton's doctrine of a stronger government to enhance capitalism. We invested in common infrastructures, established a central bank with uniform monetary policies, and implemented financial and legal systems – things free market capitalism can't do alone.
That's why, together, these two ideologies complement each other – so long as they don't get in each other's way.
But, John Maynard Keynes screwed that up when he came out with the worst economic theory in history during the Great Depression. His brilliant idea was that the government should fight downturns with deficit spending to offset declines in the private sector. He said that if it would help, the government should pay people to dig ditches and then fill them back up!
How uneconomic is that?
Related: Do you have market anxiety? VOTE here how market anxiety will affect your choice in the 2016 Presidential Election.
I've realized by studying history that it helps to get government involved when it comes to nurturing a developing country. They need infrastructure and export industries as such countries are rapidly urbanizing. It works – if government doesn't overdo it!
China's government has overdone it, while India's needs to step it up. With their rapid and unsustainable urbanization, China has a GDP per capita (adjusted for purchasing power) of $12,116, while India's is $5,591. Malaysia, one of the wealthiest emerging countries with $26,145 GDP per capita and 75% urbanization, is an example of a government that got it more right.
It was inevitable that government's role would grow as we urbanized and grew wealthier. Urban areas are exponentially more complex to manage than rural areas. The trick is to have government do the right things and to do them efficiently. Otherwise, you over-plan and over-regulate and end up like China or Russia – or increasingly, the U.S. and Europe.
But that's exactly what Keynes did. He thought governments should actively smooth out natural economic cycles through deficit spending. His theories got mainstream acceptance in the 1970s when Nixon said: "We're all Keynesians now." And ever since, this theory has been abused and is now destroying the golden goose of free market capitalism and democracy.
This chart shows the story on the fiscal side: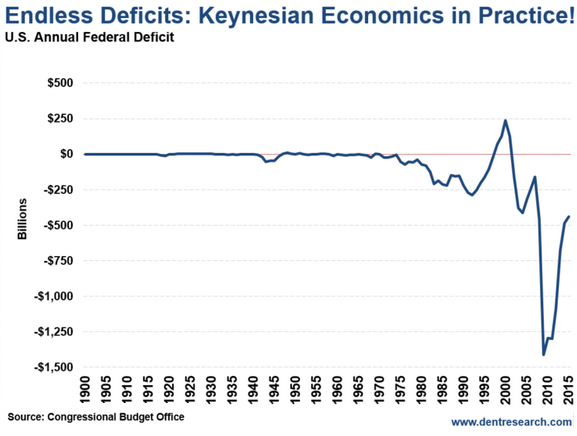 We started running nonstop deficits in the 1970s to offset that long recessionary economy in the summer season from 1969 – 1982. That was largely justified and inevitable. But then the real crime began.
We ran larger and larger deficits even in the greatest boom in history, when we should have run huge surpluses with burgeoning government revenues and falling social costs. Basically, we got hooked on the fiscal stimulus drug.
By the time the great boom started in 1983, we had government debt of $443 billion and a deficit that year of $208 billion. We added $1.8 trillion to the debt into 1990… another $2.5 trillion into 2000… $4.3 trillion more into 2008… and another $8.1 trillion between 2009 and 2015. Today, it's a grand total of $19.2 trillion!
Greenspan made it worse by adding monetary stimulus, lowering interest rates every time we had a stock crash or recession – from 1987 forward.
And since huge deficits and low rates weren't enough, Bernanke came along and added QE – straight injections of "crack" – much more powerful than merely setting short-term interest rates to zero. Now, long-term Treasury interest rates are at zero or negative when adjusted for three-year average inflation rates. The next step looks like helicopter money – sending checks in the mail to households!
Do you get the progression here? Does this sound like a drug addict?
Liberal economists like Paul Krugman think we should be running bigger deficits and more QE – on top of already runaway deficits and monetary policy. This is insanity!
Here's the reality just ahead. My indicators say we are going to see the worst of this winter deflationary season from 2016 into 2022 (2023 for deficits on a one-year lag). If we added $8.1 trillion to the debt in the eight years between 2009 and 2015, I see at least 50% more in the next eight years, or $12 trillion minimum by 2023. That will bring us to at least $31 trillion in national debt…
And GDP will be at least 10% lower, say $16 trillion. That's a government debt-to-GDP ratio of nearly 200%!
More on this from the preeminent government budget expert and former U.S. Comptroller General, David Walker, as our keynote speaker at the Irrational Economics Summit, October 20 -22 in Palm Beach. Walker will share his vision for the future of America, and how he thinks we can set ourselves on a course for financial responsibility, and save ourselves from ruin… a real insider's take.
Does all give you market anxiety? VOTE here how market anxiety will affect your choice in the 2016 Presidential Election.




Enjoy reading WOLF STREET and want to support it? Using ad blockers – I totally get why – but want to support the site? You can donate. I appreciate it immensely. Click on the beer and iced-tea mug to find out how:

Would you like to be notified via email when WOLF STREET publishes a new article? Sign up here.